​Police fire tear gas at Milan Expo protesters
Clashes broke out between police and Expo 2015 protesters in Milan, with officers firing tear gas at marchers. It came after demonstrators torched cars, threw firecrackers, and dragged burning rubbish bins to block streets.
Eleven officers were injured, according to city police. An unspecified amount of protesters were also detained.
Thick clouds of smoke filled parts of the city center, as masked demonstrators threw stones and confronted police in riot gear.
Officers could be seen patrolling the streets as loud bangs and sirens rang out.
#M1: trains do not stop at Pagano and Conciliazione (police station's orders). Alternatively: Wagner/Buonarroti and Cadorna. #ATM#Milano

— ATM informa (@atm_informa) May 1, 2015
Around 20,000 people have taken the streets of the Italian city for the 'No Expo May Day Parade' on Friday. The parade coincides with the opening of the Expo 2015 in Milan.
Thousands of police were deployed before the event, to counter the threat of violence.
Opponents of the event have accused authorities of wasting public funds as the country plunges deeper into economic crisis.
They also claim theExpo will benefit the corporations collaborating the event, rather than the country itself.
More than 40k people at #Noexpo demo in #milanopic.twitter.com/7Yj0VIPh5j

— Clash City Workers (@ClashCityWorker) May 1, 2015
Officials disagree, however, saying they expect the country's gross domestic product (GDP) to increase between 10-14 billion euros (US$11.2-15.6 billion).
The Milan Chamber of Commerce expects Expo 2015 to generate 191,000 new jobs for the country, while the Italian government is counting on some 20 million people attending the event. Ten million tickets have already been sold.
Italian Prime Minister Matteo Renzi also voiced a feeling of optimism on Friday.
"Today it is as though Italy is embracing the world," he said at the Expo's opening ceremony. "All you experts who kept saying 'we'll never do it', this is your answer."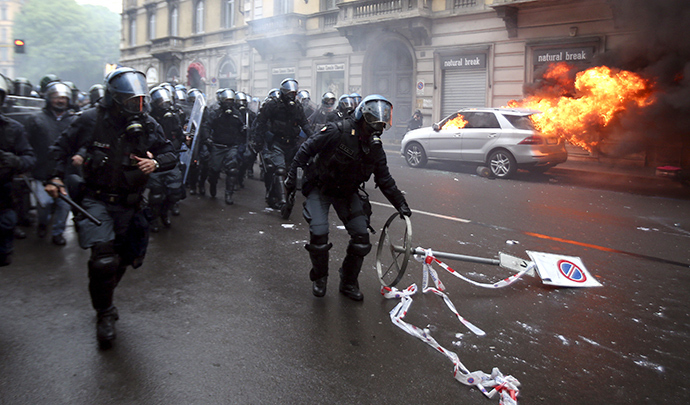 But Pope Francis expressed a different view during a televised link-up to the ceremony.
"In certain ways, the Expo itself is part of this paradox of abundance, it obeys the culture of waste and does not contribute to a model of equitable and sustainable development," he said, referring to the irony of the event which is devoted to sustainable development and feeding the poor, yet reliant on corporate sponsorship deals.
The real focus of the Expo should be "the faces of the men and women who are hungry, who fall ill and even die because of an insufficient or harmful diet," he added.
The Italian government set aside 1.3 billion euros ($1.46 billion) for the event, according to Reuters. However, that budget was exceeded, with the country ultimately spending 2.5 billion euros ($2.8 billion) on the project.
But that money didn't seem to buy ease. The event has been plagued with a corruption investigation which led to several top officials being arrested. Cost overruns and construction hold-ups also meant that large parts of site were not ready for opening day.
The six-month event will feature interactive displays on the theme 'Feeding the Planet.' Pavilions from 54 countries will present exhibitions and samples of their national cuisine. It will run until October 31, 2015.
You can share this story on social media: