RT launches #Victory70 online project featuring dynamic Eastern Front battle map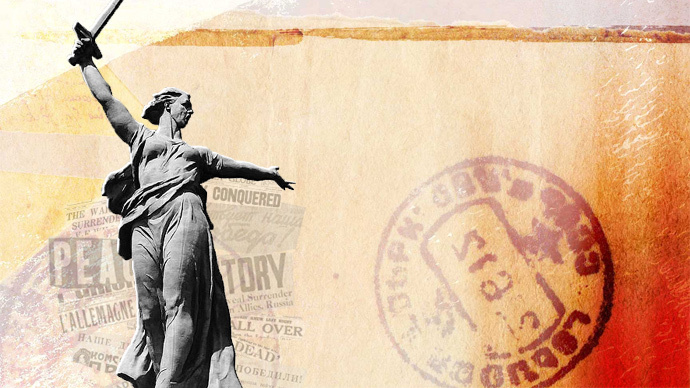 As Victory Day looms closer, Russia remembers the millions of Soviet lives lost in WWII to make the Nazi defeat possible. RT is launching a project that amongst personal stories and letters will also feature a dynamic battle map of the Eastern Front.
World War II was the world's biggest and bloodiest military conflict. It affected 61 countries with a total population of 1.7 billion people. Battles took place in 40 of those states and it was the first and only war in which nuclear weapons were used.
VICTORY DAY: 70 YEARS SINCE VICTORY OVER NAZI GERMANY
By far the greatest losses were suffered by the Soviet Union. Out of the 55 million lives lost, 27 million were Soviet. Over 1,700 Soviet towns and settlements and 70,000 villages were razed by the Nazis, and half of the country's infrastructure was destroyed.
The USSR's confrontation with Nazi Germany lasted from June 1941 until May 1945 and became known as the Great Patriotic War, the name it acquired after a nation-wide radio address by Joseph Stalin.
Russia, where you can hardly find a single family untouched by the Great Patriotic War, is marking the 70th anniversary of the victory with a series of parades and commemorative events, the biggest of which is the May 9 parade in Red Square.
In memory of the Soviet Union's victory, RT has put together personal stories of veterans, recounting the hardships and dangers of the war. Personal letters and frontline photographs of soldiers, nurses, prisoners of war and civilians from both the Soviet and the German side tell the actual stories of the biggest conflict in modern history. From vows to die but not surrender, to a lover's promise to come back from the last offensive, they provide an astonishing insight of how the war touched almost everyone at the time.
An outstanding feature of our project is a heatmap of the Great Patriotic War. The conflict, which saw hundreds of battles spanning almost four years across Europe and the western USSR, has been meticulously mapped into a dynamic graphic, complete with a timeline that reveals the true scale of events that shook the world 70 years ago.
Stay tuned to RT for the launch of our Victory Day project. Right now you can listen to WWII veterans sharing their stories for War Witness.
You can share this story on social media: