​Unforgettable password: Smartphones could soon be unlocked with ears
Published time: 29 Apr, 2015 11:33
Edited time: 29 Apr, 2015 11:42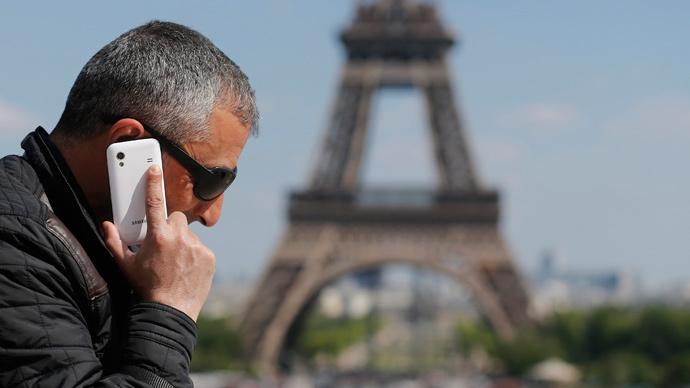 If you think typing in a four-digit pin number to unlock your smartphone is simply too burdensome, you may soon have other options. Yahoo has developed a way to use your ear, palm, fingers, or knuckles to access your device.
The system, called Bodyprint, turns a regular touchscreen into a biometric scanner which can recognize the unique shape of a user's body part.
Created by Yahoo Labs in California, the project was presented earlier this week at the 2015 Computer-Human Interaction Conference (CHI) in Seoul.
In a demonstration at the event, a Bodyprint user received a call on his smartphone. He was able to unlock his phone by simply pressing it to his ear – a task that took less than a second. Further details can be found in a paper written by the developers.
Bodyprint could be a cheaper answer to fingerprint scanners on mobile phones – a feature which has so far been restricted to high-end smartphones.
"Due to their cost, capacitive fingerprint scanners have been limited to top-of-the-line phones, a result of the required resolution and quality of the sensor," the team said on its website.
But Bodyprint doesn't require the same costly sensors. In fact, it just needs a standard touchscreen.
"The surface area [of a touchscreen] is large, allowing the touch sensor to scan users' body parts, such as ears, fingers, fists and palms by pressing them against the display," the team said.
During initial trials with 12 participants, Bodyprint classified body parts with 99.98 percent accuracy, and identified users with a 99.52 percent success rate.
The system was most accurate when scanning the ear, due to its more unique size and shape.
Those who share a device with others can even store multiple body prints in a single phone. Users can also require the prints of two users to unlock a particular document within the phone, adding extra security.
The team has not commented on when the system may be available to manufacturers, stating that their next steps include the improvement of recognition algorithms and further testing.