'Waiting for zero hour': IS supporters claim they are in Italy's streets via Twitter pics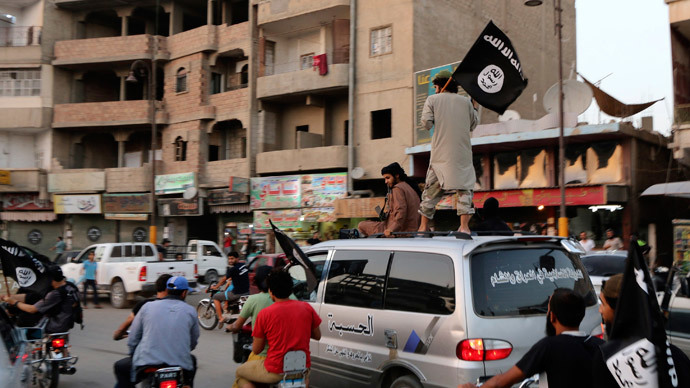 Supporters of the so-called Islamic State (IS, formerly ISIS/ISIL) have been posting photographs allegedly taken in Italian cities, including the capital Rome, accompanied with threatening messages.
The pictures, whose authenticity cannot be independently confirmed, show police vehicles, public places and landmarks next to a bit of paper held in front of a camera. The paper has the Islamic State logo on it, the hashtagged phrase 'Islamic State in Rome' and an ominous message in Italian, saying "we are in your streets."
Pro#IS users circulating threatening pics allegedly from inside #Italy#Rome; claim to be "waiting for the zero hour" pic.twitter.com/RSx5auBXkV

— Rita Katz (@Rita_Katz) April 27, 2015
Judging from the background, most of the pictures weren't actually taken in Rome but in Milan. The city's cathedral is visible in one of them, and the venues of Expo Milano 2015 in several others.
However one photograph allegedly shows the Colosseum in Rome.
READ MORE: ISIS plans to invade Europe through Libya – report
These are not the first of such threats seen on Twitter. An earlier set of pictures showed road signs pointing to Milan and Venice, as well as a train station. All had similar notes in Arabic and the hand-drawn IS logo.
However, some Italian Twitter users are out to prove such photographs are easy to fake.
@IsisMinaccia "siamo fra voi"... uhm... #IslamicState_in_Rome (amici della Cia in ascolto: probabilmente è un fake). pic.twitter.com/UriCdax2wa

— Blanche_of_Id (@blanche_of_ID) April 27, 2015
They have been taking the threats with a grain of salt, apparently writing them off as fakes, and creating their own doctored images with bits of paper and the IS logo.
The Islamic State has been making threats against Italy for months now, saying it is preparing to conquer Rome. Following the Charlie Hebdo attacks in Paris, Italy set up a joint anti-terrorism task force with Albania to train police officers against possible attacks. It also posted hundreds of soldiers at sites across the country that could become possible targets.
You can share this story on social media: