Russian swimsuit models get 'up, close & personal' with 650kg bear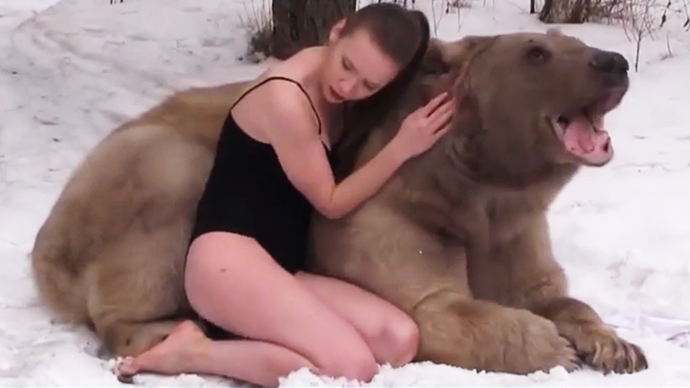 A provocative photo shoot featuring Russian models cuddling a 650kg bear for an anti-hunting campaign has driven a wedge among social media users in Russia and overseas. Some praise the women's courage, while others label the pics 'creepy'.
Models Maria Sidorova, 21, and Lydia Fetisova, 22, get scarily close to their 18-year-old partner, a brown bear named Stepan (called Stephen by foreign media.)

Sidorova told Komsomolskaya Pravda daily that taking part in photo shoots with animals, including bears, is "not scary at all."

"Despite the fact that I was in a duet with a huge, heavy and sharp-clawed beast, I was sure he wouldn't intentionally injure me, and the trainers kept close tabs on us," she said.
Sexy Russian models snuggle, spoon and pose with 1,400-lb bear in anti-h... https://t.co/pZbW19Dnnm via @YouTube

— Conner Spells (@Vvltvre) April 25, 2015
The images show the daredevil models climbing on top of the bear, wrapping their arms around him like he was a toy, while Stepan is sitting calmly on a bed in the middle of nowhere, in the forest. The bear is also seen wrapping his massive paws around one of the models, who is lying in the snow wearing only a swimsuit.
Not everyone was pleased with the models getting so intimate with the big furry creature during their photo shoot. While some were in awe of the women's courage, others labeled the pictures "bizarre."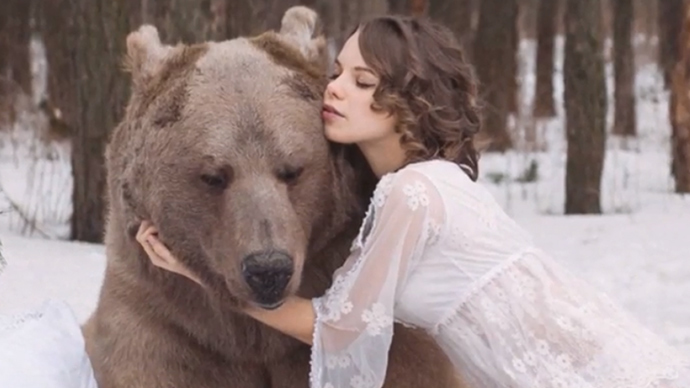 Noting the models' perceived predicament, a Twitter user wryly observed, "Modeling's a lot more dangerous in Russia," while a Japanese user said, "Yes, this is Russia, Yes this is a real bear. Good morning."
While some critics of the photo shoot, wondered whether anyone saw the "irony of an anti-hunting photo shoot depicting a woman wearing a fur coat," others noted that one of the models was possibly wearing a faux fur coat.
Why pose with stuffed animals when you can be in a photo with a real-life massive bear? That's what these anti-hunting Russian models did […

— USA TELL (@USATellNews) April 25, 2015
"During the photo shoot, I gave him [bear] a carte-blanche. Among the two of us it was me who made adjustments to him. During the photo shoot I kept thinking that this is a rare chance when you can be so close to a bear - be in his arms, lie on him and let him lick my hands and face. Therefore, despite the cold, I tried as much as possible to play up to him so that we look natural," Sidorova said.

The snaps were taken by photographer Olga Barantseva in a forest outside Moscow. She said the challenge was to show harmony between humans and bear.
Why do Russian models pose with a REAL bear? Because they can. And to protest against hunting (I hope it's just that) http://t.co/5eQrzlzJ6j

— Yulia Bragina (@YuliaSkyNews) April 24, 2015
"We should live peacefully side-by-side together instead of hunting," Barantseva was quoted as saying.

Stepan, who is 220cm tall, is in fact a real star. He has previously appeared in over 20 Russian films, including Pavel Lungin's 'Tsar'. According to the Daily Mail, the bear became separated from his mother he was three months old. His new owner, professional circus trainer Yury Panteleenko, raised Stepan to be people-friendly.