Footbrawl: 41 arrested in massive Serbia soccer fan clash (PHOTOS, VIDEO)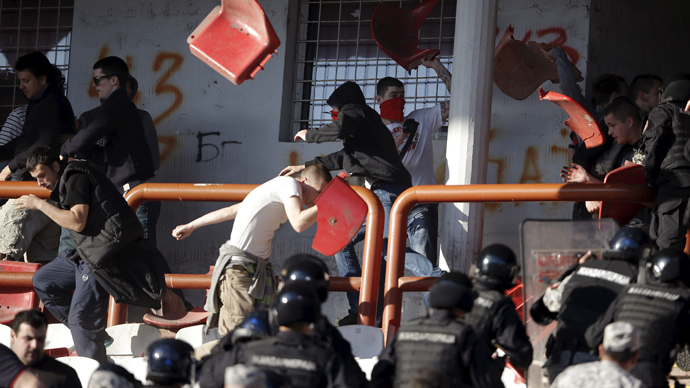 Belgrade riot police had to intervene to break up violent clashes between diehard fans of Serbian football clubs Partizan and Crvena Zvezda (Red Star). The unrest resulted in dozens of injuries and arrests, and the match was delayed some 40 minutes.
The disturbances started at the north stands of the Red Star stadium, known as the usual seats for Red Star's most hardline supporters. The hooligans threw stadium seats and flares at riot police, forcing them to retreat and wait for reinforcements, before they could push the fans back and the match could begin.
Partizan Belgrade v Red Star Belgrade was delayed as ultras clashed with riot police [Video] http://t.co/Ldq6JtB08ipic.twitter.com/D3I6jA0gSY

— 101 Great Goals (@101greatgoals) April 25, 2015
During the match, which eventually ended in a 0-0 draw, most of the hooligan activity on both sides was restricted to the stadium terraces. Fans lit flares and threw stun grenades, some of which ended up on the athletics track. At one point, the match had to be halted for several minutes while waiting for flare smoke to clear.
READ MORE: Russia-Montenegro Euro qualifier abandoned after 2 players hit by objects thrown by fans
Red Star- Partizan stopped at 65mins Partizan fans throw flares onto pitch.Just as their team was showing innitiative pic.twitter.com/EzE8DmSmb5

— Sonja Nikcevic (@sonjanik13) April 25, 2015
"Police reacted professionally and efficiently, quelling a conflict started by fans which could have led to calling the game off and other serious consequences," the Serbian Interior Ministry said. Overall, it says 41 rioters were arrested during, before and after the game.
tribundergi: Kızılyıldız-Partizan pic.twitter.com/cb5UmcRcsq

— Fenomen Futbolcu (@fenomenfutbolcu) April 26, 2015
Officials say 35 police officers were injured in the clashes. In the photographs from the scene, several fans also appear bloodied.
The police also held up and turned back a van which had arrived from the northern city of Zrenjanin loaded with bricks and rocks.