Over 1,800 killed after 7.9-magnitude earthquake strikes Nepal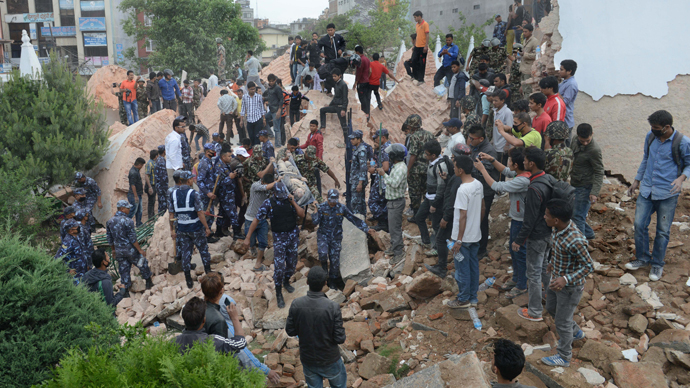 A 7.9-magnitude earthquake has struck Nepal and India, killing more than 1,800 people and injuring hundreds. The most severe damage was seen in Nepal's capital, Kathmandu, where buildings collapsed, burying people alive under the rubble.
READ MORE: Devastating 7.9-magnitude quake strikes Nepal, India LIVE UPDATES
The death toll has risen to 1,805 and another 4,718 people have been injured as a result of the earthquake, Reuters cited Nepal's Home Ministry official. Many of the victims were in the Kathmandu Valley at the time the quake struck.
The epicenter of the quake was 80 kilometers northwest of Kathmandu, a city with a population about 1 million. It was at a depth of 31km.
The shallowness of the quake made it even more destructive as buildings were toppled and large cracks opened in roads.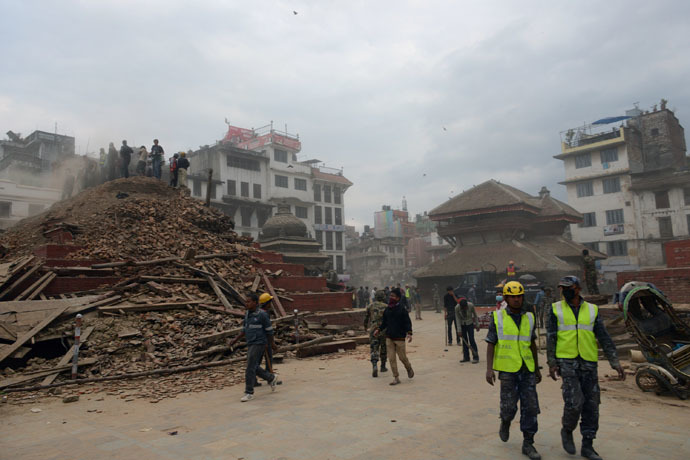 Thousands in Katmandu are to spend the night outside their homes – in makeshift tents, eating food provided by volunteers – in anticipation of more tremors.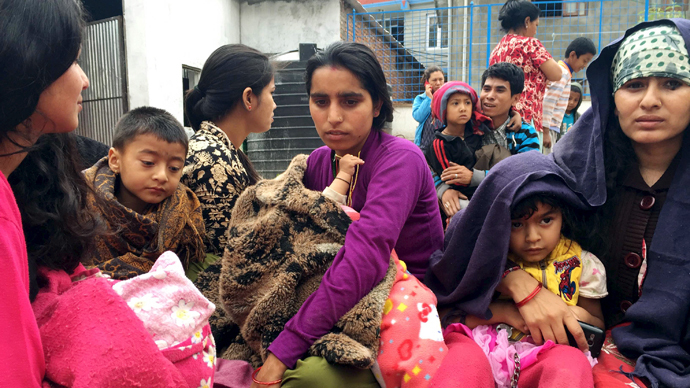 Tremors have also been felt in some cities in eastern and northern India, including the capital, New Delhi, said JL Gautam, Head Operations Seismology of Indian Meteorological Department (IMD).
BREAKING UPDATE: USGS upgrades #Nepal quake from 7.5 to 7.9 http://t.co/E6wZrronVg (pic via @masoomvyas) pic.twitter.com/XYT5dYjEaN

— RT (@RT_com) April 25, 2015
The death toll from the earthquake in India has reached 36 people, according to Reuters, with the maximum number of deaths recorded in West Champaran district.
Tremors were also felt in Chinese Tibet where 12 people were killed, with four fatalities also recorded in Bangladesh.
4 dead in this house ;( Kathmandu pic.twitter.com/kPsIyiebug

— N B (@nishantberia) April 25, 2015
A total of about 14 aftershocks of varying magnitude have jolted Nepal since the main earthquake. They were felt for more than two hours after the quake.
"Rescue efforts are still underway. We fear that the toll might rise as we dig through the rubble," he added.
#NEPAL: Historic #Dharahara Tower dating back to 1832 reportedly collapses in #Kathmanduhttp://t.co/E6wZrronVgpic.twitter.com/hC7JJUWiNB

— RT (@RT_com) April 25, 2015
The historic Dharahara (Bhimsen) Tower, dating back to 1832, collapsed in Kathmandu. The 62-meter-high monument was a part of Architecture of Kathmandu recognized by UNESCO.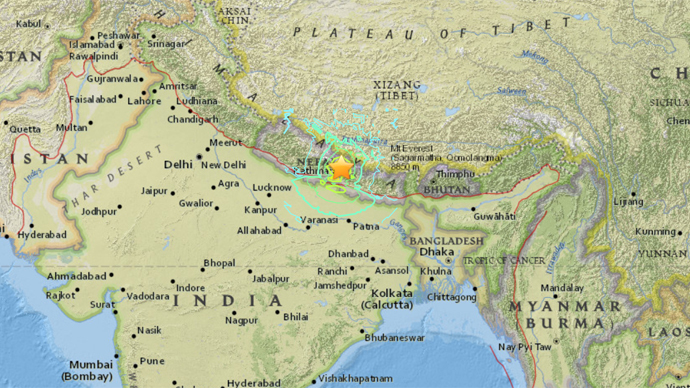 As the Nepal's authorities appealed for international assistance, Indian Prime Minister, Narendra Modi, dispatched a military air transporter with three tons of supplies and a disaster response team.
Three more aircraft were expected to follow the first flight, bringing a mobile hospital and more rescue workers.
Colapsos de construcciones en Katmandú, Nepal. Foto: @khalidkhan787pic.twitter.com/hi8k5Na7Yd

— ariel spanos (@arielspanosc) April 25, 2015
People are in open space due to fear. #earthquake#Nepalpic.twitter.com/9gzL9HvPeg

— Guna Raj Luitel (@gunaraj) April 25, 2015
The quake caused an avalanche on Mount Everest and killed 10 people, Gyanendra Shrestha of the Tourism Ministry in Kathmandu said.
"The toll could go up, it may include foreigners as well as Sherpas [native people who often act as guides]," he added.
About 1,000 climbers, including 400 foreigners, had been at camp or on Everest when the quake hit.
Nepal, which is situated in a mountainous area between India and China, is no stranger to natural disasters, with its worst earthquake killed more than 8,500 people in 1934.
pic of dharahara destroyed in Kathmandu quake, 400 feared buried Nepal pic.twitter.com/BiLAvrzfrw

— Khalid Khan™ (@khalidkhan787) April 25, 2015
Some roads in Kathmandu have developed massive cracks as 7.5 magnitude earthquake hits Nepal http://t.co/dEr4sm7HWDpic.twitter.com/NQ4Wimcwso

— NDTV (@ndtv) April 25, 2015
You can share this story on social media: