EU allows more GM crops to be imported following 1.5-yr hiatus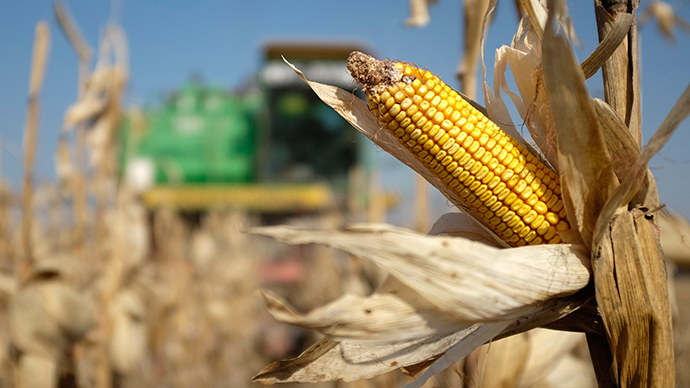 The European Union has given the green light to start importing 10 new types of genetically modified crops for the first time since 2013. Two types of flowers have also been cleared, amid heated debates over amendments to the EU approval process.
The crops, which include maize, soybeans, cotton and oilseed rape will be authorized for human food and animal feed for the next 10 years, the European Commission announced on Friday.
The GM crops by Monsanto, BASF and Bayer CropScience will principally be used to feed cattle in Europe, according to Reuters.
The Commission also gave 10-year extensions to seven other crops produced by Bayer, Monsanto, Dupont's Pioneer and Dow AgroSciences, which had previously been approved. Two types of carnations, developed by Suntory Holdings, have also been cleared for import into the EU.
This is the first time since November 2013 that new products have been given the go-ahead to be brought into the EU. The EU Association of BioIndustries (EuropaBio) welcomed the move, following a "standstill of one and a half years."
"EU livestock farmers, in particular, are set to benefit hugely from internationally traded GM crops for their animal feed, and it is important to grant them freedom of choice, " Beat Spath, the director of agricultural biotechnology at EuropaBio, said.
58 GM crops had previously been authorized for use in the EU. Their genetic modifications mainly provided protection against pests and greater resistance to herbicides.
GM crops are widely grown in the Americas and Asia, but at present, there is no united stance in Europe regarding the issue. Only Monsanto's maize MON810, which is cultivated in Spain and Portugal, is currently on sale for human consumption within the EU.
READ MORE: EU Commission proposes GM opt-out for member states
Despite claims by producers that GM crops are scientifically proven to be safe, the activists fear they may harm people's health, affect the environment and put the European food chain under the control of global corporations.
Earlier this week, the European Commission proposed a new law, which would allow individual member states to restrict or prohibit imported GM crops – even if they have been approved by the EU.
The US, which is pushing for Europe to fully accept its GM crops, slammed the initiative as "not constructive," saying that it amounts to a trade restriction and therefore jeopardizes the planned EU-US free trade agreement.
Environmentalists were also unhappy, expressing concerns that the law may provide loopholes for the US or biotech companies to sue the countries after their decision to ban GM crops, which would lead to a wave of new approvals.
According to the European Commission, member states choosing to opt out of imported GM products would have to justify their decision without referring to environmental or health issues already assessed at EU level.
Greenpeace said that European Commission president, Jean-Claude Juncker, has "opened the flood gates to a new wave of GM crops only to please US biotech corporations and trade negotiators."
You can share this story on social media: