1st mass-produced floating nuclear plant to power Russian Arctic in 2016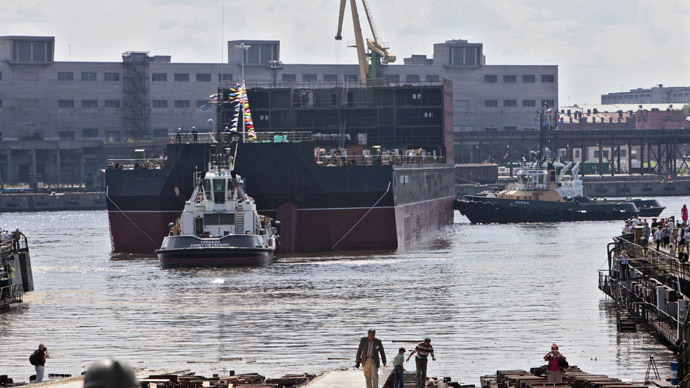 ​Russian Deputy Prime Minister Dmitry Rogozin says the first floating nuclear power plant built for use in the Arctic will be ready by October 2016.
"In fact, it's a nuclear reactor that can be connected to any onshore infrastructure, so that it powers any Arctic city via cable," Rogozin said, speaking to the participants of a planned youth Arctic expedition.
The floating reactors will be used to power port cities, industrial infrastructure, and oil and gas drilling rigs and refineries, which, according to Rogozin, will prove a great asset in Arctic exploration. Russian atomic agency Rosatom says 15 countries, including China, Algeria, Indonesia, Malaysia and Argentina, have shown interest in hiring such power plants for their own projects.
READ MORE: North Pole-2015: Russia launches drifting Arctic station
Construction of the 'Academic Lomonosov' began in 2007 in St. Petersburg. The non-self-propelled vessel will have a length of 144 meters and will be operated by a crew of 69 people. Its two reactors will be able to produce up to 70 megawatts of electricity, enough to power about 22,000 households.
It's expected to become the flagship project of a series of mobile power plants, which will make it the first ever mass-produced ship-based nuclear power station. It is based on atomic engines powering ice-breaker ships, tried and proven through years of use in the Arctic.
Rogozin is just back from inaugurating 'North Pole-2015', a new scientific drifting station designed to maintain the presence of Russian researchers in the Arctic Ocean for months.
North Pole. Our Station-2015. Anniversary of the "Battle on the Ice" on Lake Chudskoe. But it's all quiet&as planned) pic.twitter.com/fm7m2YaUfY

— Dmitry Rogozin (@DRogozin) April 19, 2015
Russia sees the Arctic as a top-priority area for exploration and defense. At the end of last year, a new military doctrine was adopted which designates the protection of national interests in the Arctic as one of the army's main goals. Russia is also intensifying the exploration of the area for energy resources, with national companies planning new drilling facilities.