Pumps at Fukushima plant halted, toxic water leaking into ocean - TEPCO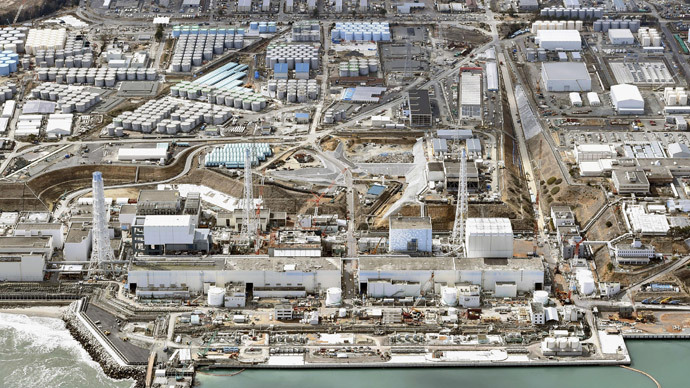 All the eight water transfer pumps at the Fukushima 1 nuclear power station have been shut down due to a power outage, leading to a leak of radioactive water into the Pacific Ocean, the plant's operator said.
Tokyo Electric Power Co. (TEPCO) reported a power outage on Tuesday, according to Kyodo news agency. It follows the line of the toxic leaks that were reported in February, when at one point around 100 tons of highly radioactive water leaked from one the plant's tanks.
READ MORE: 100 tons of toxic water leaked at Fukushima plant
The February report prompted TEPCO to launch a pumping process at the site; this began just last Friday. The pumps were confirmed to be working Monday afternoon, but at 8:45am on Tuesday they were found stopped.
The incident and the amount of water already leaked are being checked, according to the company. The pumps are used to transfer tainted water from a drainage channel to a channel that leads to an artificial bay in front of the station, enclosed by a fence.
Earlier this year, TEPCO stated that last May's water samples from the drainage channel contained radioactive materials. The concentration exceeded the legal limit, which is estimated at just 30 becquerels of radioactive strontium-90 per liter.
Overall, in the period between May 2011 and August 2013, according to a series of statements from the company, groundwater leaks ended up in as many as 20 trillion becquerels of cesium-137, 10 trillion becquerels of strontium-90 and 40 trillion becquerels of tritium reaching the sea.
#ICYMI Drone captures TONNES of #nuclear waste being stored at #Fukushimahttp://t.co/tv1bbJk6lWpic.twitter.com/Hfs8MEjdy2

— Ruptly (@Ruptly) April 21, 2015
The Fukushima Daiichi plant tragedy with nuclear meltdown of three of the plant's six nuclear reactors was caused by an earthquake-triggered tsunami in March 2011.
TEPCO's efforts to manage the release of the radioactive material have been slammed by the global community due to its suppression policy. This year the company was revealed to have been concealing reports of dangerously high radiation levels at the plant since September.
You can share this story on social media: