Enough with WWII apologies: Japan PM sees no need to reinforce remorse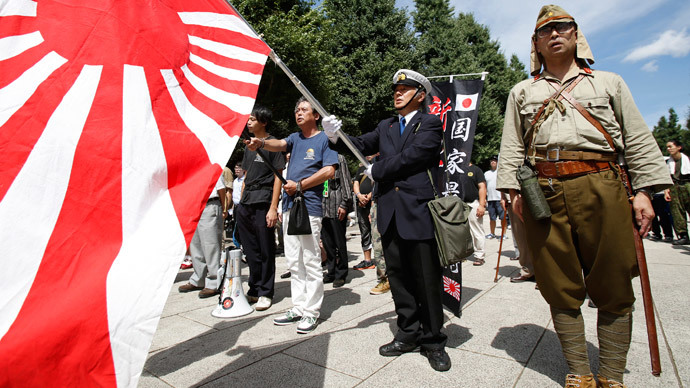 Japanese Prime Minister Shinzo Abe has implied Tokyo is not going to reiterate an apology for WWII aggression and war crimes in a special statement marking the 70th anniversary of the end of the war in the Pacific to be issued later this year.
Speaking to Fuji TV on Monday night, Abe mentioned there will be no more apologies to the victims of Japanese aggression during the WWII, as apologies made in the past have already made the point.
On 50th and 60th anniversaries of Japan's defeat in August 1945, Abe's predecessors issued apologies for conduct during the WWII.
"I uphold the basic thinking behind past war apologies, which means there isn't a need to reiterate them," Japanese PM said in an interview, describing nation's self-reflection over war-time atrocities as "masochism."
Abe also speculated as to whether "invasion" is the correct term to describe Japan's occupation of the Korean Peninsula and parts of continental China.
It is highly possible that Abe's latest remarks are going to confirm suspicions by Japan's neighbors that Tokyo is seeking to downplay its wartime deeds, among which was turning thousands of Asian women into 'comfort women', de facto sex slaves in Japanese military brothels.
Abe's visit to Yasukuni war shrine in Tokyo in December 2013 sparked fierce protests from China and South Korea, the countries Japan occupied until the defeat in 1945. Resentment of Japan's neighbors is understandable: among the 2.4 million war dead honored at Yasukuni are internationally-recognized war criminals who committed atrocities on the occupied territories.
This year PM Abe has opted to refrain from visiting Yasukuni. Instead of personally attending shrine's spring festival this week he sent to Yasukuni a symbolic offering.
Abe's self-restraint could be explained by participation in the upcoming Asia-Africa conference in Jakarta on Wednesday, where he is expected to hold talks with Chinese leader Xi Jinping and South Korean PM Park Geun-hye.
After over half a century of exemplary peaceful policies, Abe's conservative government is moving away from the pacifist stance fixed in Japan's post-WWII constitution.
Japan approves biggest military budget in 70 yrs, adds massive warship to fleet http://t.co/eAEjPKDTAapic.twitter.com/Ko2jvQPzqH

— RT (@RT_com) March 25, 2015
In 2014, Abe's cabinet reversed a post-war constitutional ban on military operations abroad. The law enacted in 1954 has considerably limited soldiers' scope abroad, as the lessons of 1930s-1940s are still fresh in the memory, when the country was dragged into conflict with China and the Pacific War that followed.
In January this year, Japan's government approved nation's largest military budget in 70 years, in contravention of the pacifist constitution. Prime Minister Shinzo Abe's cabinet gave the green light to an unprecedented nearly 5 trillion yen ($42 billion) defense budget, which came into force in April.
READ MORE: Japan approves largest military budget since WWII
#Japan's military is getting offensively cute, writes VICE https://t.co/4s6EgZ5X8tpic.twitter.com/XRkxNjDPi1

— Kjeld Duits (@KjeldDuits) April 14, 2015
In February, the Japanese government announced revision of the existing law prioritizing civilian control over national self-defense forces (SDF). The initiative of the further erosion the post-WWII legislature in Japan allegedly comes from SDF personnel, both acting and former officers currently occupying lawmaking positions.
READ MORE: Japan set to loosen control over military introduced post WWII – report
Ambitions of the PM Shinzo Abe's government are not limited to full-scale revival of Japan's armed forces. In March it was reported that Tokyo is considering the introduction of an overseas intelligence network possibly modeled on Britain's MI6 spy agency, the first of its kind since World War II,
READ MORE: Japanese Bond? Tokyo toys with creating MI6-style spy agency
You can share this story on social media: