Mexican police reportedly involved in January killings of unarmed civilians & protesters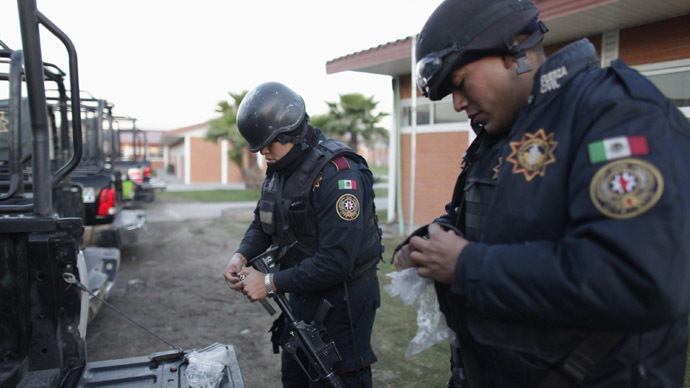 Mexican federal police killed at least 16 unarmed people in two separate attacks in early January, local media reported, dismissing an official message by the government alleging the deaths were caused by a "friendly fire."
La Jornada San Luis conducted its own investigation into the events of January 6, 2015 in Apatzingan, a city in the Mexican state of Michoacan, saying they "point to a crime against humanity." According to the report, "federal police executed unarmed civilians which left at least 16 dead and dozens injured." None of the protesters had guns, according to La Jornada San Luis. The report has been based on testimonies by a number of witnesses, who asked not to be identified.

Most of those killed in Apatzingan appear to be members of vigilante groups set up last year to curb local gangs. They had been protesting lack of pay from the federal government, which had co-opted them into a new rural police force unit.
WARNING: VIEWER DISCRETION IS ADVISED. YOU MAY FIND THE VIDEO DISTURBING
We didn't choose this #government Nothing is worst than #Mexicohttps://t.co/JMtoamZ2dj#apatzingán#masacre#michoacán#matanza

— Jessica Badillo (@JessicaBadilloF) April 20, 2015
Ruben, one member of the rural police, heard the gunfire and jumped out of his truck, when federal police shouted: "Raise your hands and get on your knees!" He was about to follow the order when he saw another man kneeling, arms raised, at gunpoint. Ruben witnessed the execution: "He was shot while kneeling, rendered, unarmed," Ruben told La Jornada San Luis. The attack reportedly lasted 15 minutes.
Another member of the rural police, Artemio, witnessed police beat a woman who was crying and saying that she is pregnant. They told her:

"Shut up, b***, because if not, we'll kill you!"

According to witnesses, six hours after the first attack federal police discharged their M60 guns at about a dozen vehicles carrying civilians in Apatzingan. "The feds gunned down people from trucks," witnesses said. Some victims of the police attack received no medical attention and bled to death on the street.

One 15-second video captured a small girl on the floor with a bloodied shirt, extending her arms to be moved by some boys into a van.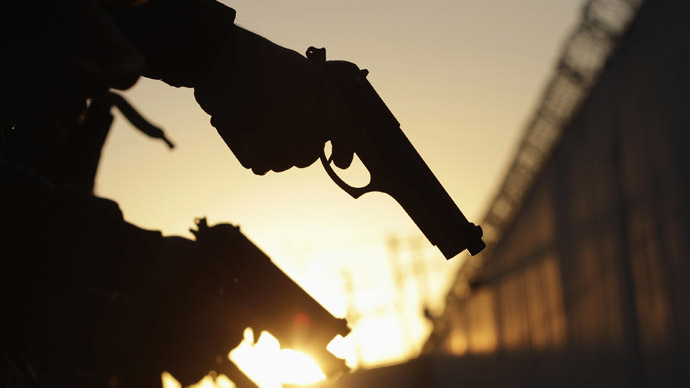 At the time in mid-January, Alfredo Castillo, then the federal government's security commissioner for Michoacan, stated the deaths during the two incidents were caused by "friendly fire." A coroner told a Univision news source that the bodies had "clear signs of having been killed with a firearm."

The Aristegui Noticias news website has also published a report on the "execution of civilians by Federal Police, in Apatzingan, Michoacán."

The National Security Commission, which oversees the federal police, said on Saturday it had received an anonymous video "from which one can infer the alleged excessive use of force or abuse of power by federal policemen in Apatzingan."

A spokesman for the interior ministry stated that authorities always investigate allegations of police abuse when there is sufficient evidence, but did not say if an investigation was under way in this case, Reuters reported.

There has been an international outcry over 43 college students, who have been missing in southern Mexico for over six months. According to the government's account, police confronted the students who traveled to Iguala on September 26, 2014, and later turned them over to members of a gang. According to an independent investigative report, the Federal Police were directly involved in the attack. There has been growing pressure on President Enrique Pena Nieto over the case.
You can share this story on social media: