Anti-NATO parties grab top spots in Finland general election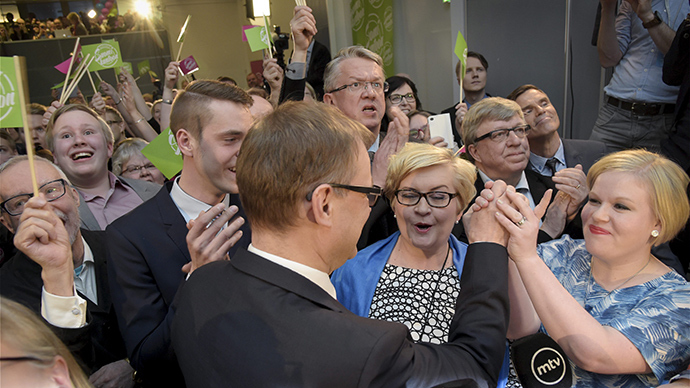 The Prime Minister of Finland has acknowledged the victory of the opposition Centre Party in Sunday's general election. With all votes counted, Centre has 21.1 percent support, which translates to 49 seats in the country's parliament.
"It appears the Centre has won. Congratulations," PM Alexander Stubb, a staunch EU backer, said, according to Finnish broadcaster Yle.
Election results - seats won and % of popular vote by party. #finelec2015#vaalit2015pic.twitter.com/zI7SHcr8Pg

— Yle News (@ylenews) April 19, 2015
However, with only 49 seats, Centre will have to form a ruling coalition. "This result will enable several possible coalition combinations", party leader Juha Sipila told reporters.
The Centre has several potential allies to choose from. These include the nationalist Finns Party, which came in second with 17.6 percent of the vote. Like the Centre, the Finns are against NATO membership for Finland, with the Finns also striving for more independence from the EU.
READ MORE: Moscow hits out as Finland and Sweden seek closer ties with NATO
They are closely followed by the National Coalition Party (NCP), with 18.2 percent. The NCP is the only party in the top four which advocates both NATO membership and closer ties with the EU.
The Social Democratic Party, at fourth place with 16.5 percent, is another potential member for the ruling coalition. Like Centre and the Finns, it is against NATO - as many as 91 percent of its members saying they are oppose it.
Other runners include the Greens, the Left party the pro-minority Swedish People's Party and the Christian Democrats, none of which got more than eight percent of the vote.
You can share this story on social media: