'River full of corpses was our reality:' Survivors recall childhood in besieged Leningrad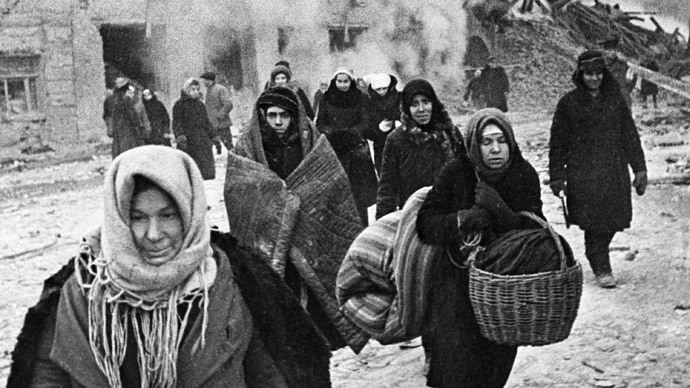 One of the most tragic episodes of World War II was the Siege of Leningrad. RT interviewed two survivors who lived through the blockade as small kids. Seventy-one years on, both still shed tears as they recall the dark days.
What unites and sticks in the memories of siege survivors – who lived through the ordeal for 872 days – is the precise amount of bread allocated – 125 grams per day. Whole families had to live on foodstuff that contained "a maximum of 30 percent of bread, or flour – the rest being residue, cellulose or flour dust".
Watch RT's special project War Witness here
As Zinaida Ivanova - who was only 3 years old when the war broke out in June 1941 – recalls, her mother used to cut that minuscule piece of "bread" into tiny cubes and dry them. As she left for work, she gave those pieces to Zinaida and her four siblings to "suck on them as if they were candies...to make the taste last longer, or it would have gone in a second."
The city saw terrible, famished days and widespread losses of life. On top of the lack of food, which resulted in all living things, including crows, cats and dogs being eaten by desperate residents, the sanitary conditions also suffered greatly. German air attacks destroyed civil infrastructure, water and sewerage systems, so that people were even pouring waste out of windows.
READ MORE: 'They tortured us, now they march along central streets' - Survivors of Latvian concentration camp to RT
"There was no water, it had to be fetched. My mother found a pair of my dad's boots, for instance, and cut them into thin strips, as before the war boots were made from genuine leather, like pigskin. And she'd use these strips to make soup," Ivanova recalled.
Starvation did not go without consequences. Anorexic people, dystrophic children of mere skin and bones suffered from problems such as abdominal adhesions and ileus. According to Ivanova, "the worst consequence apart from people dying was that many women in Leningrad who lived through the siege remained childless."
The vivid memories of the two years of blockade still haunt another siege survivor, 78-year-old Tatyana Korsakova. "If I close my eyes I immediately remember that darkened room. There was a small kerosene lamp on the table, a potbelly stove in the middle of the room...something's being cooked on it, but its smell isn't tasty. I know it is wood glue – but I'm terribly hungry."
Her mother risked her life going to the front line to collect oats that had not been harvested, "with the bullets from both sides flying over her head." As her baby sister was dying, their grandmother warmed her up with a woolen glove and managed to make a drink with tea and grains of sugar – which were nearly impossible to find – saving her life.
Korsakova is still astonished by memories of her and her friends going to the bridge over the Fontanka River. The kids saw corpses floating, but they "were neither scared of them nor felt any disgust. It was just a fact, of the reality we were living in."
The Siege of Leningrad, one of the longest and most vicious in history, lasted 872 days, from September 1941 till January 1944, leaving over one million civilians dead.
You can share this story on social media: