'End ECB dick-tatorship!' Protester attacks Draghi during keynote speech (VIDEO)
A protester, associated with the FEMEN movement, interrupted a televised speech by European Central Bank president Mario Draghi, when she jumped onto the table and showered him with confetti, while shouting "End ECB dictatorship!"
21-year-old Josephine Witt, who was also wearing a t-shirt with the punning slogan "End ECB dick-tatorship" also left several fliers with a oblique small-print rant against the financial body which regulates the Eurozone monetary policy.
Apparently these are the flyers the ECB protester (said to be Josephine Witt) was throwing pic.twitter.com/C1wdJ27OlP

— Peter Spence (@Pete_Spence) April 15, 2015
Witt was quickly intercepted by security and removed from the stage, as the TV feed cut off. The press conference restarted within a matter of minutes, with an obviously bemused Draghi fastidiously sweeping the remains of the confetti off his desk.
When the floor was subsequently opened to questions, Draghi reassured a concerned journalist that he was not affected by the incident.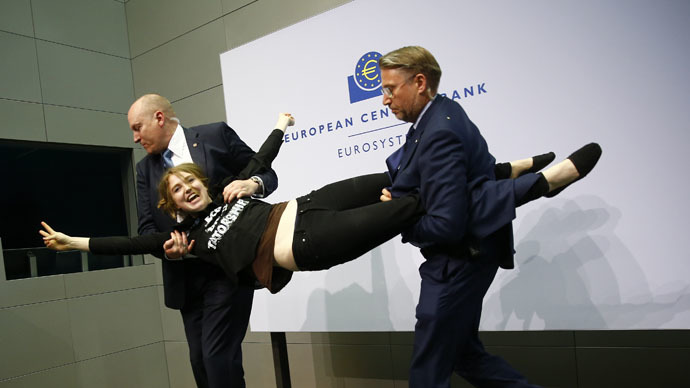 The economic content of the event brought few surprises, with the 67-year-old Italian banker confirming that ECB interest rates will remain unchanged, and endorsing a continuation of its quantitative easing program.
The ECB said that Witt was able to gain access into the its headquarters in Frankfurt after she "registered as journalist for a news organisation she does not represent." The activist, who is a veteran of multiple topless protests with the Ukraine-founded feminist movement FEMEN, was released without charge later on Wednesday afternoon.
Ma l'arrestano ogni settimana? #JosephineWitt#BCEpic.twitter.com/IxtBA1vWhP

— Luca Watson (@DottorWatson) April 15, 2015
"It's not a Femen protest today, it's a papillon one," one of her associates told the Telegraph outside the Frankfurt police station, referring to the leaflets, known as papillon, which were handed out by Resistance fighters in France during the Nazi occupation.