S-300 in Iran 'no threat to Israel': Putin briefs Netanyahu on defensive weapons concept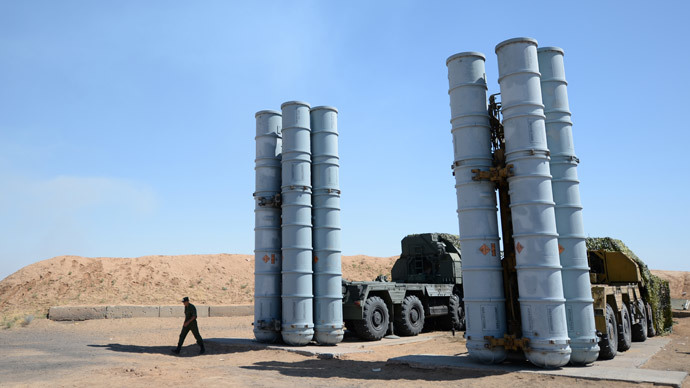 Following Russia's decision to lift a ban on supplying S-300 missile systems to Iran, the Israeli PM has called President Putin to express his "grave concerns" – and received a detailed explanation of defensive weapons and the logic behind Moscow's move.
According to a statement released by the Kremlin, Vladimir Putin "gave a detailed explanation of the logic behind Russia's decision…emphasizing the fact that the tactical and technical specifications of the S-300 system make it a purely defensive weapon; therefore, it would not pose any threat to the security of Israel or other countries in the Middle East."
The assurances do not appear to have had the desired effect. In a statement released by his office, the Israeli PM expressed "grave concerns regarding the decision," and told Russia's president that this step "will only encourage Iranian aggression in the region and further undermine the stability of the Middle East."
READ MORE: Putin lifts ban on delivery of S-300 missile systems to Iran
Russia signed an $800 million deal in 2007 to ship five S-300 divisions, which are composed of radars and multiple interception missile launchers, only to postpone the deal three years later, during the presidency of Dmitry Medvedev.
It was done as a sign of solidarity with Western partners who were imposing increasingly tough sanctions against the Islamic Republic – the missile systems themselves were never on the international sanctions list.
The reversal comes amid major progress in the negotiation framework between Iran and six leading world powers over the regulation of the Islamic Republic's nuclear program, which should produce a final deal this summer.
Moscow believes at this stage there is "no longer need for this kind of embargo," Russian FM Sergey Lavrov said, reiterating that "from the Russian side it was unilateral and voluntary." Russia has also started supplying grain, equipment and construction materials to Iran in exchange for crude oil under the so-called "oil-for-goods" barter deal, which had earlier sparked dissatisfaction in the West.
READ MORE: Russia Iran oil-for-goods deal on – Kremlin
The US officials also seemed displeased with Russia's latest "non-constructive" moves, with State Department spokesperson Marie Harf however admitting that it did not violate any international norms. "We don't believe it's constructive at this time for Russia to move forward with this," she said, adding that Secretary Kerry had voiced his concerns too.
For its part of the future deal with Iran, the West is promising it will drop some of its sanctions against Tehran – particularly in the oil and financial sectors. However on Tuesday the German foreign minister Frank-Walter Steinmeier warned that it was important to wait until the Iranians fulfill their side of the bargain.
"I've told some US senators that they should not now try to unnecessarily impede further negotiations," he told the media when asked about Russia's contract in Lubeck in Germany on Tuesday. "But I'll also say that it is also too early to talk about rewards at this stage."
You can share this story on social media: