No Russian or Chinese intelligence involved in Snowden flight – Assange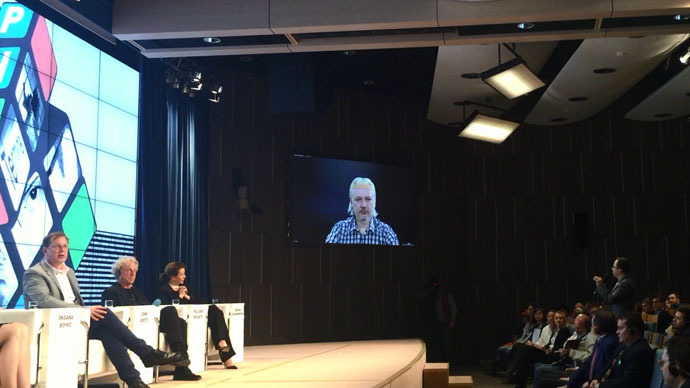 While the 2013 operation to evacuate whistleblower Edward Snowden from Hong Kong, where he faced impending arrest, involved a degree of subterfuge, no Chinese or Russian intelligence agents were involved in it, WikiLeaks' Julian Assange said.
The rebuttal of a theory of possible involvement of Chinese of Russian special services in NSA whistleblower's departure from China to Russia came at the Moscow premiere of a documentary detailing Snowden's escape.
Whistleblower site WikiLeaks provided logistical and legal support for the NSA fugitive, with lawyer Sarah Harrison accompanying Snowden during his several last days in Hong Kong and his trip to Moscow. Site founder Assange, himself a fugitive stranded in the Ecuadoran embassy in London, assured that the diversions used to cover Snowden's departure came from their experience of opposing government agencies over the years.
US tortured Chelsea Manning to crush her, create a deterrent for future whistle-blowers - @wikileaks founder pic.twitter.com/AE1PDHmJHa

— Worlds Apart (@WorldsApart_RT) April 13, 2015
"There was no participation of any intelligence service. We say this loudly because we put a lot of work and some risk and some money into pulling this through," Assange told a Moscow audience via a link.
"I've being studying these agencies – principally in the United States, but also around the world – for 20 years now. So in order to defend our journalists, our sources and our financial structure we had to understand these things," he added.
The film is called 'Terminal F' after the Moscow airport terminal where Snowden was stranded after the US revoked his passport and until Russia gave him political asylum and allowed him entry. It was produced by filmmakers John Goetz and Poul-Erik Heilbuth and based primarily on interviews with Snowden, former NSA chief Michael Hayden, and Assange and Harrison. They detail how the situation was viewed from various perspectives.
READ MORE: RT premieres 'Terminal F' Snowden documentary in Russia
Harrison revealed that Snowden was approached once by Russia's security service, the FSB, and offered immediate entry into Russia in exchange for working for them. The American rejected the proposal, she said.
The documentary also revealed that WikiLeaks was likely the source of misinformation that Snowden was taken abroad the plane of Bolivian President Evo Morales, who visited Russia at the time of Snowden's debacle and publicly stated that he would grant him asylum if asked.
Acting on the tip, the US government pressured European nations to close their airspace to the plane, forcing it down and subjecting it to a search. The episode triggered a major diplomatic scandal and, according to some critics of Washington, exposed the real nature of its relations with European nations.
Sarah Harrison 'and then we went into that room for a month... With no window.. And no shower.' #TerminalF#Snowdenpic.twitter.com/btgQzywsJt

— IvorCrotty (@IvorCrotty) April 13, 2015
Edward Snowden, a former NSA employee, is responsible for the biggest leak of classified documents in US history. He is wanted on espionage charges by the US justice. The leaks revealed to the public the mass scale of US intelligence gathering via electronic communication channels, which, according to critics, amounts to gross violation of privacy.
Snowden is viewed by many people as a heroic figure that risked his successful career and freedom in order to expose corrupt governmental practices. Russia granted him political asylum in 2013 and a residence permit one year later.