Pooh Bear stink: Russian schoolgirls' twerk video goes viral, inquiry launched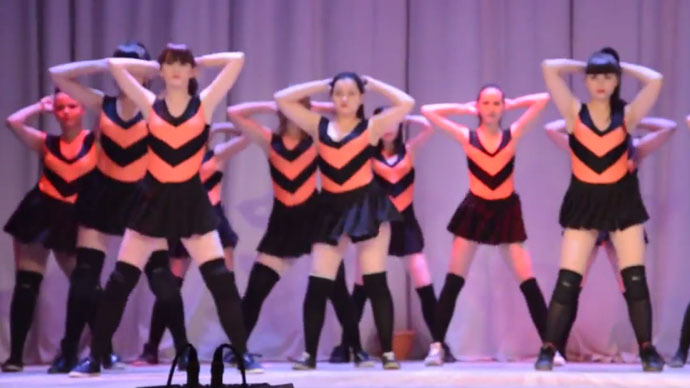 Teenage girls at a Russian children's school of dance have taken the controversial dance of twerking to a whole new level… by combining it with Winnie the Pooh. The video "blew up" on the internet, with millions of views and a police investigation.
Outward expressions of teenage sexuality are generally not endemic to Russian pop culture, so it should come as no surprise that the dance entitled 'Winnie the Pooh and the Bees' would have caused uproar, especially when the bees make it clear their aim in life is to twerk, with honey taking a back seat.
In the video, which emerged online on April 12, a Winnie the Pooh figure can be seen jovially strutting about with a pot of 'honey.' Seconds into this, a whole troupe of 'bees' appears on stage, wearing miniskirts, and begins to give a visual presentation that is very difficult to tie in with the main narrative of the children's story. Winnie, who is left nonplussed and holding his empty honey pot, then promptly exits the stage, with the performance descending into an all-out twerk-fest.
The routine was presented as final coursework in January at a school of dance in the city of Orenburg. 'Kredo', as the school, housed in the building of the local community center is called, specializes in modern dance.
But few could have foreseen the impact, once the video was uploaded on YouTube for millions to see.
The outrage spread quickly from bloggers to activists and, finally, the Orenburg regional investigative committee, which has opened a criminal investigation on charges of negligence and indecent exposure.
And with over three million views in two days – the video definitely provided some "exposure."
"Yes, we do have that dance. I haven't seen the internet video yet, but we'll get to the bottom of this. I have no further comment at this time," Tatyana Harchenko, the head of the community center told reporters.
The city of Orenburg has called an emergency meeting of the region's culture officials and government authorities, the dance school's chief and the girl's parents to try and get to the bottom of how the entire thing came to be produced in the first place.
Local authority representatives told RIA Novosti that according to the dance school management, classes in twerking started at the end of 2014, but they were dropped in February.
Now, a special committee will be convened on the Mayor's orders. It will comprise arts and culture officials, as well as choreographers and other staff, and will be tasked with inspecting all children's dance collectives in the region for expressions of underage erotica, or anything else inappropriate.