Russian tiger tamer brings big cat to severely wounded Donbass boy (VIDEO)
A young boy from Donetsk, who has been severely traumatized by the conflict in eastern Ukraine, has had a dream come true. Ivan Voronov, who has lost multiple limbs as well as his sight, got the chance to meet a real-life tiger.
Ivan Voronov's life has turned on its head. He had been just an ordinary 10-year-old boy living in Donetsk until one day disaster struck. A shell exploded next to him and he lost both legs, as well as having to have his right arm amputated. If that wasn't bad enough, he has been left practically blind from the ordeal.
Ivan's life has been shattered. However, thanks to the Zapashny brothers, who could be seen as a Russian version of the big cat trainers, Siegfried and Roy, the 10-year-old managed to live out a dream, despite his awful predicament.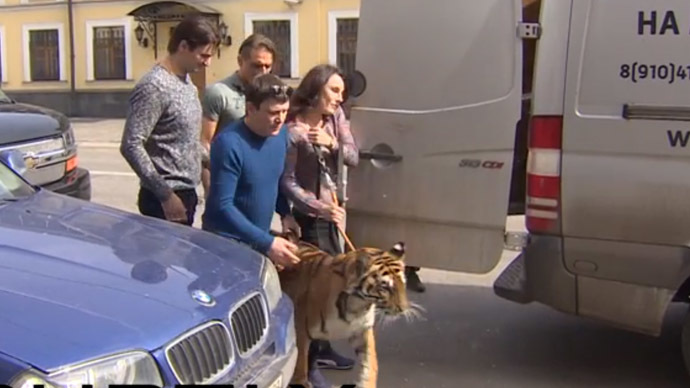 The boy from Donetsk had expressed a dream to meet a tiger and after a few phone calls, Ivan got his wish.
"He asked for something that probably no one expected – to stroke a tiger. Ivan can't really see anything. We can only hope there will be some positive changes in his life," one half of the Zapashny brothers, Askold, who was close to tears after meeting Ivan, told RT's video agency Ruptly.
Askold learnt about Ivan's fate after getting a phone call from Russia's Children's Rights Commissioner, Pavel Astakhov, who had visited the 10-year-old in hospital in Moscow, where he is getting regular treatment from surgeons. After learning that Voronov dreamt of meeting a tiger, Astakhov immediately knew who to call.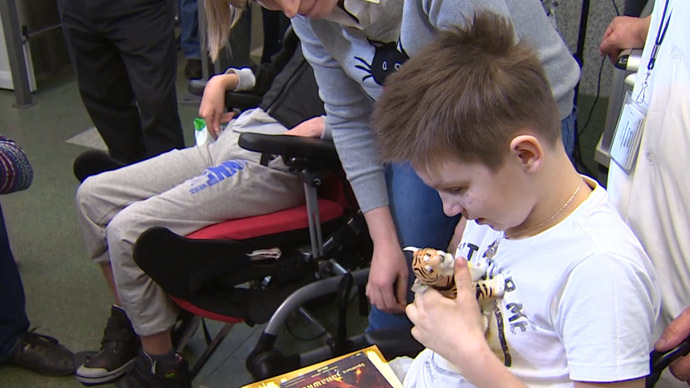 "A child should not always have to be brave. Today we saw a brave child, who is not only fighting for his life, but also trying to get some enjoyment out of his life," Zapashny said.
Ivan was tentative around the tiger, as tragically,he is still having to get used to a life with severely limited eyesight. However, his request to get to meet a tiger also brought other children at the hospital an unexpected surprise.
"He was a bit like Santa Claus today as none of the other children were expecting a tiger to be present. Thanks to him they were also able to get some enjoyment from all the horrors that they are having to live with," Zapashny said.
You can share this story on social media: