​Saudi Arabia rejects Iran's calls for ceasefire in Yemen conflict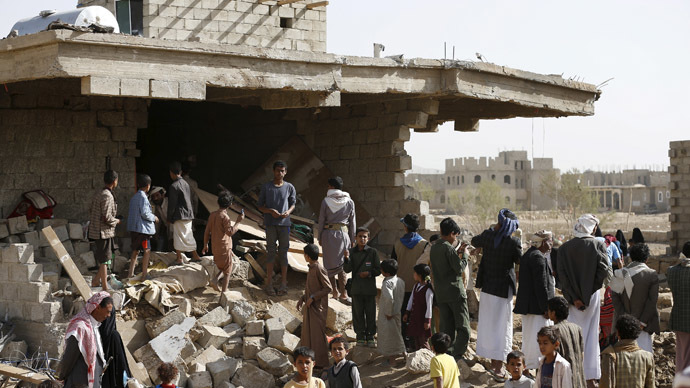 Riyadh has called on Iran not to interfere in the conflict in Yemen after Tehran repeatedly called for end to the Saudi-led airstrike campaign against embattled Yemen.
"How can Iran call for us to stop the fighting in Yemen? ... We came to Yemen to help the legitimate authority, and Iran is not in charge of Yemen," Saudi Foreign Minister Saud al-Faisal said Sunday at a joint press conference in Riyadh with his French counterpart, Laurent Fabius.
Faisal called on Iran to stop providing political and military support to the Houthi rebels, a Shiite rebel group, that has taken control of swathes of the country, including the capital, Sanaa, in recent months.
On Thursday, Iranian Supreme Leader Ayatollah Ali Khamenei decried Saudi airstrikes as a "crime and genocide." In a speech Thursday, Iranian President Hassan Rouhani urged Saudi Arabia and its Gulf allies to halt aggression in Yemen and commence peace negotiations.
"To the countries in the region, I say, let's adopt the spirit of brotherhood. Let's respect each other and other nations," Rouhani said. "Do not kill innocent children. Let's think about an end to the war, about a ceasefire and humanitarian assistance to the suffering people of Yemen."
Moscow is calling for a diplomatic solution to the conflict, emphasizing that foreign military intervention would only lead to more civilian deaths. Last Friday, Russian Deputy Foreign Minister Mikhail Bogdanov met with the newly appointed Saudi ambassador, conveying the "necessity for a ceasefire" to create favorable conditions for a peaceful national dialogue.
The US has meanwhile accused Iran of aiding the Houthis.
"There are obviously supplies that have been coming from Iran." US Secretary of State John Kerry said Wednesday. "There are a number of flights every single week that have been flying in. We trace those flights, and we know this. We are well aware of the support that Iran has been giving to Yemen."
READ MORE: Iran's Khamenei accuses Saudi Arabia of genocide over Yemen airstrikes
For its part, Iran has denied backing the rebels. On Thursday, Iran's Foreign Ministry summoned the Saudi charge d'affaires to lodge a complaint against allegations of Iran's involvement in Yemen.
Saturday Yemeni militiamen in Aden said they captured two Iranian military officers advising Houthi fighters. The two officers are allegedly members of an elite unit of Iran's Revolutionary Guards.
Tehran has denied these reports, according to Iranian state news agency IRNA. "Iran has no kind of military force in Yemen," Deputy Foreign Minister Hossein Amir Abdollahian was quoted as saying on Sunday.
Saudi Arabia and nine other Sunni majority states began an airstrike campaign against Houthi positions throughout the country at the end of last month. Ousted Yemeni President Abd Rabbuh Mansur Hadi fled to Saudi Arabia as rebels advanced on Aden, where he had been staying since being forced out of Sanaa in February.
According to the International Federation of the Red Cross, up to 1,042 people have died in the conflict so far. Even getting aid to conflict-torn areas and retrieving the dead has proven dangerous and outright impossible at times.
"Our paramedics face being targeted while doing their job. There are dead and wounded left in the street whom we cannot reach," Abdullah Radman, a doctor with the International Committee of the Red Cross, told Reuters.
You can share this story on social media: