Students barricade themselves inside Montreal university after arrests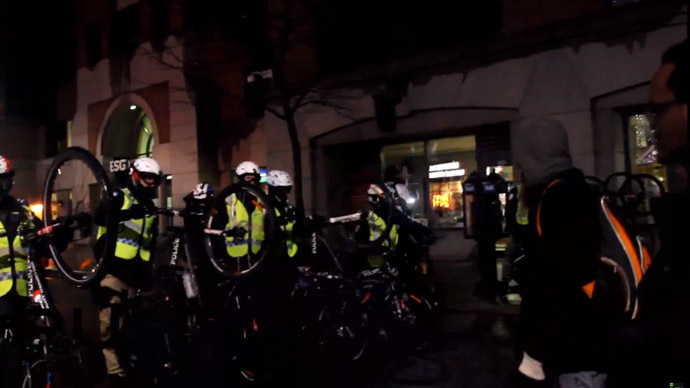 Dozens of Canadian students protesting budget cuts barricaded themselves overnight inside a Montreal university following a police intervention that resulted in over 20 arrests Wednesday.
According to social media accounts, a heavy police presence was seen in the surrounding area with reports of tear gas and pepper spray being used by law enforcement officers.
The turmoil broke out after security agents started enforcing last week's court injunction, which ordered the protesters not to block entrances to the university. At least one journalist's camera was damaged by spray paint.
The tense night comes after days of disturbances at the Université du Québec à Montréal (UQAM), where students are protesting the provincial government's budget cuts.
The university administration called in police twice Wednesday, saying the protesters were disrupting classes.
A smashed police car wind-shield on the street outside #occupationUQAM#manifencours via @Jasminlavoie@99Media_orgpic.twitter.com/wax0bvaI9B

— Revolution News (@NewsRevo) April 9, 2015
On their second visit of the day after midday, police arrested 10 women and 11 men, Montreal Gazette reported. All of them face public order charges. Some also stand accused of using masks during a protest while others were charged with illegal assembly.
Some 150 of the initial 250 demonstrators who remained at the university by midnight decided to barricade themselves in for an overnight sit-in. They chanted, "Liberez nos camarades" (free our comrades) and "Occupons UQAM" (occupy UQAM).
There are A LOT of people here #occupationUQAMpic.twitter.com/jsLNLRbIoc

— Matt D'Amours (@mattdamours) April 9, 2015
In a statement, UQAM rector Robert Proulx said acts of intimidation had no place at the university, and that violence and vandalism are unacceptable.
"The position of the university is that we are legally obliged to give our courses to students who have the right to go to class and who paid their tuition," he said, CBC reported.
Earlier Tuesday the protest of several days at UQAM escalated after the student union voted to suspend the protest. Radically-minded protesters who did not agree with this decision ramped up their action, disrupting classes.
Nearly 3K shares already on this report on today's dramatic events at #occupationUQAM in Montreal https://t.co/voEnH1r7vD#cdnpoli#qcpoli

— Ricochet (@ricochet_en) April 9, 2015
Masked people reportedly sang, flicked the lights on and off, erased notes from whiteboards and interrupted classes in other ways. Six classes were canceled during the day as the university's own security officers did not intervene.
UQAM protests are part of a larger student movement against Quebec's austerity policies.