Extreme biker sets death-defying downhill world record on mountain of ice (VIDEO)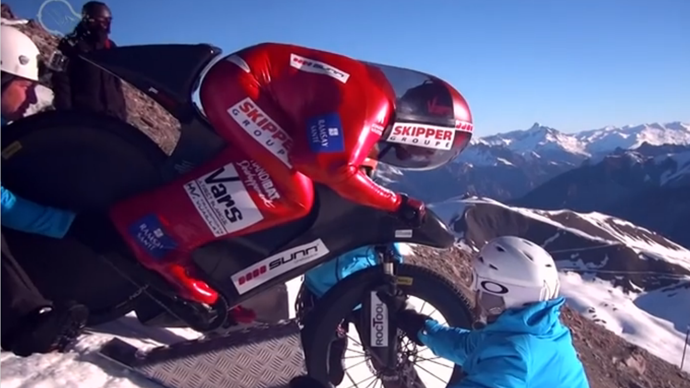 The phrase "don't try this at home" takes on a new meaning: this extreme driver/mountain biker just broke the world speed record in mountain biking with a staggering 138.75 mph (223 kmph). And he did it off an icy mountain.
Needless to say, as with any biking or extreme sport, mistakes aren't welcome here. What Eric Barone did isn't just difficult – it's scary, because one wrong move threatens to result either in every bone in your body broken, or simply, instant death.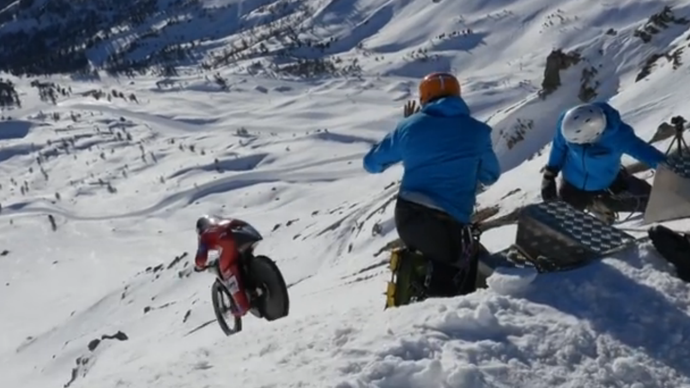 He accomplished the feat on March 28 in Vars, in the picturesque French Alps. And Barone wasn't exactly stealing anyone else's thunder; he just beat his own previous World Speed Record. And he did it on the steepest snow track in the world.
To add insult to injury, he probably also went faster than you can in your car!
The fateful day at Vars was marked by head-spinning preparation and miniscule calculations. The snow track is 8,850ft above sea level. It was 7:30 a.m., the temperature was -4 Celcius, the winds at 43mph (the wind chill bringing things down to a cool -20 Celcius): all of this made the bike difficult to hold still at the start line. And if Barone somehow did manage it, the first stretch of 1,000 feet (304 meters) was pure ice.
The successful attempt was also a culmination of a project lasting three years, with just the custom carbon body bike costing the Frenchman over $87,000. The figure went up nearly threefold, owing to track construction and other project costs.
They call the biker the Red Baron for his tricks. And he knows what he's doing, with a past career as a stuntman and a history of prior records to boot, his first one being in 1994, then 1999 and then once more, in 2000. He was 39 on his last attempt. He's now 54 and feeling better than ever, having beaten his 2000 attempt at the ski resort of Les Acres by just one crucial kmph.
On top of that, 2002 saw him speed down a volcano in Nicaragua to break the gravel record speed of 172 kmph. Victory was won just seconds before his bike went ahead and collapsed underneath him, sending the thrill seeker tumbling down a stony incline at breakneck speeds. He tore both shoulders, broke six ribs and had numerous other life-threatening injuries.
Here's the video from Nicaragua, because sometimes words are insufficient to describe the nigh-impossible.
WARNING: GRAPHIC VIDEO. VIEWER DISCRETION IS ADVISED.
Numerous other death-defying stunts were performed until now, but it was in 2015 when Barone got his new custom-made F2.0 prototype aerodynamic carbon bike – a result of the biker's request to make him something he could use to go faster than ever before.
You can share this story on social media: