Nuclear submarine catches fire at Russian shipyard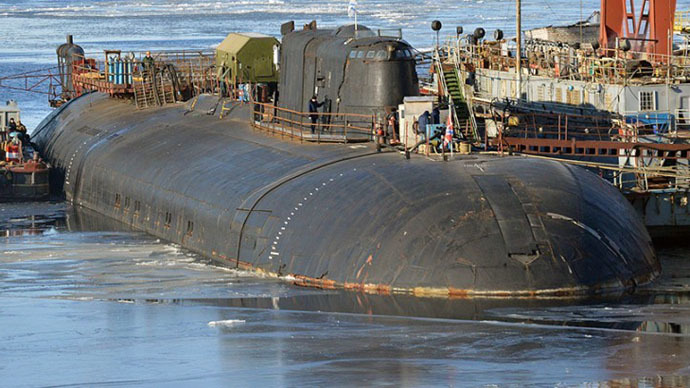 Fire broke out on a Russian nuclear submarine undergoing repair work at a shipyard in Severodvinsk on Tuesday. The blaze was caused by technical procedure violations during welding works, according to Zvezdochka shipyard press office.
The incident occurred onboard the K-266 Oryol nuclear submarine in the Arkhangelsk Region in northern Russia.
By Tuesday evening the fire was put out completely, said the spokesman for the shipyard, Evgeny Gladyshev.
"Now the fire on the Oryol submarine, going through repair works, has been put out completely. There is no smoke anymore; just some fumes are still rising," he said.
The fire was localized after firefighters decided to immerse the burning submarine in water to douse the flames.
The United Shipbuilding Company said nobody was hurt in the fire.
На судоремонтном заводе «Звёздочка» в Северодвинске загорелась подлодка http://t.co/RcHV1uZ09Qpic.twitter.com/eUwFguLYrx

— #говоритмосква (@govoritmsk) April 7, 2015
ФОТО: В Северодвинске горит подводная лодка http://t.co/4k0l0F3gaJpic.twitter.com/xMuYrLCuyX

— Срочный по Северу (@flashnord) April 7, 2015
The K-266 Oryol is an Oscar II-class nuclear-powered submarine, which is part of Russia's Northern Fleet. The shipyard is overhauling the sub to prolong its active service, so its nuclear reactor was shut down and its weapons unloaded before the repair works started.
Preliminary reports say the fire was caused by a welding accident, which resulted in the ignition of the rubber insulation between the sub's two hulls, according to Gladyshev.
Еще одна фотокарточка из Северодвинска: http://t.co/4k0l0F3gaJpic.twitter.com/I1eY2Yi3vv

— Срочный по Северу (@flashnord) April 7, 2015
The Oryol entered service in December 1992. It was transported to the shipyard in November 2013 for a scheduled overhaul, which is to last until 2016.
MT @livefist: A Russian Oscar II nuke submarine docked at Zvezdochka shipyard, visible from INS Vikramaditya's deck pic.twitter.com/uZKjVJA0fv

— Eric Lewis (@SubEWL) November 16, 2013
Oscar II submarines, designated Project 959A Antey in the Russian Navy, are designed to attack aircraft carrier groups with P-700 Granit (SS-N-19 Shipwreck according to NATO designation) supersonic cruise missiles as their primary weapons.
A total of 11 such submarines were built. The nuclear sub Kursk that sank in August 2000, killing all submariners aboard, belonged to this class. Two others were decommissioned while the others remain in active service.
АПЛ Орел в ремонте на Звездочке. http://t.co/nGtWsWbkkZ #Подводные лодки #Классыpic.twitter.com/6bWi61KSMW

— Дарья Таршина (@darya_tarshina) March 17, 2015
A similar fire at a nuclear submarine occurred in Russia in December 2011, when the K-84 Yekaterinburg of Delta-IV class caught fire during welding works at a shipbuilding dock. The fire, which was caused by a violation of safety guidelines, first ignited scaffolding around the sub and later spread to the insulation between its hulls.
The massive fire, which lasted for some 20 hours, left nine people injured after inhaling toxic fumes and caused dozens of millions of dollars worth of damage.
You can share this story on social media: