Erasing from cyberspace? Hackers hit Israeli websites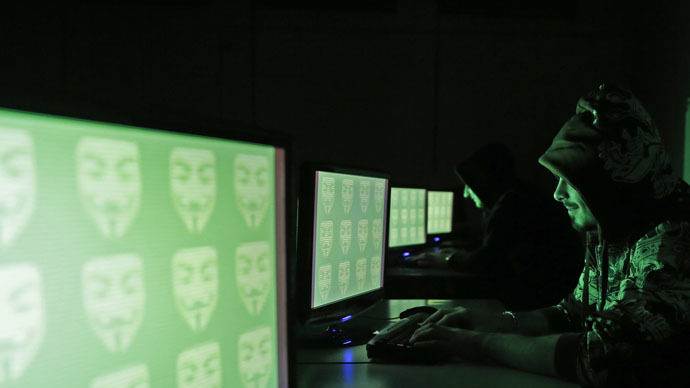 Hackers have struck Israeli websites, authorities said. The attack comes days after Anonymous hacktivists threatened Israel with "the electronic holocaust" which, the group vowed, would "erase it from cyberspace" on April 7 for "crimes" in Palestine.
It is alleged that Anonymous have targeted dozens of websites belonging to Israeli musicians and non-profit organizations, Israel's Computer Emergency Response Team said, adding that the governmental websites were not affected.
However, the Twitter account of #OpIsrael which is a part of Anonymous's annual operations, claimed that at least 150,000 phone numbers, Facebook, Gmail and Hotmail accounts have been hacked.
+150000 leaked information Phone numbers Facebook accounts-Gmail accounts-Hotmail accounts http://t.co/HCyltzEuKW#Opisrael#Opisrael2015

— #OpIsrael (@Op_Israel) April 7, 2015
The affected websites were replaced with photos of a Muslim holy site in Jerusalem and of militants holding the Islamic State militant flag. They left a message signed by "AnonGhost."
According to the Middle East Eye news portal, several government websites were hacked, including that of the country's parliament, the Knesset, the court system and the Education Ministry.
Hacking experts told Arutz Sheva, an Israeli media network, that the hack was carried out mainly by hackers in Morocco and Saudi Arabia.
Most hackers generally attack Israeli websites with viruses or hidden mechanisms like "Trojan horses," Adi Cohen, an internet and Google expert, told Arutz Sheva.
Tango Down http://t.co/NAMmjKWRrX#GhostSec#Anonymous#Opisrael2015#opisraelpic.twitter.com/vn2GhDDSWa

— #OpIsrael (@Op_Israel) April 6, 2015
Cohen suggested some tips to secure computers from hackers. Among them was not to open emails from an unknown source or not to connect external devices like USB drives to any computer that has didn't have a virus check.
"End-user awareness is critical and very important," he said, adding that office workers should shut down their work computers at the end of the working day.
READ MORE: Anonymous hacker group threatens Israel with 'cyber-holocaust'
In its March 4 video, Anonymous threatened Israel with "the electronic holocaust" which, the group vowed, would "erase it from cyberspace" back for "crimes" in Palestine.
In the video, a masked figure addresses the Israeli government, saying that it has not "stopped...endless human right violations" and "illegal settlements."
#OpIsrael#RT please #RT HumanR1ghtsAn0n #Op_Israel_7_April_2015#ANONGHOST#Anonymous#Sa… pic.twitter.com/b5fLClZM2Vpic.twitter.com/ALDQrTk6lV

— Siraj Solution (@sirajsol) April 7, 2015
"You killed thousands of people, as in the last war against Gaza in 2014. You have shown that you do NOT respect international law," the electronic voiceover says.
"We are coming back to punish you again," Anonymous video vows.
The video message, delivered in English with Arabic subtitles, displays images from the Gaza conflict, including those showing the air strikes on the territory during the Israel Defence Forces' Operation Protective Edge last summer.
"As we did many times, we'll take down your servers, government websites, Israeli military websites, banks, and public institutions. We'll erase you from cyber-space as we have every year, 7 April 2015, will be an electronic holocaust," it adds.
The hackers promised to carry out cyber-attacks on Israeli devices, websites and personal data will continue "until the people of Palestine are free."
Anonymous promised their attack ahead of Holocaust Remembrance Day, known in Israel as Yom HaShoah, which is marked on April 16.
In April 2013 the hacktivist group claimed that a similar OpIsrael attack caused $3 billion worth of damage to Israel, when it targeted over 100,000 websites, 40,000 Facebook pages, 5,000 Twitter accounts and 30,000 Israeli bank accounts.
The government, however, said that there were no major disruptions.
The past summer alone, Anonymous targeted Israel several times protesting Israel's military incursion in Gaza.
Anonymous generally uses DDOS (distributed denial of service attacks) that overload a website with fake requests, making it unavailable for legitimate users.
Israel has been severely criticized for its political decisions amid the 2014 war in Gaza, which claimed the lives of more than 2,200 Palestinians – most of them civilians – and over 70 Israelis, mostly soldiers. The conflict ended with a truce between Israel and Hamas on August 26.