'Overcome disability of fear': Nick Vujicic born limbless and inspirer of billions to RT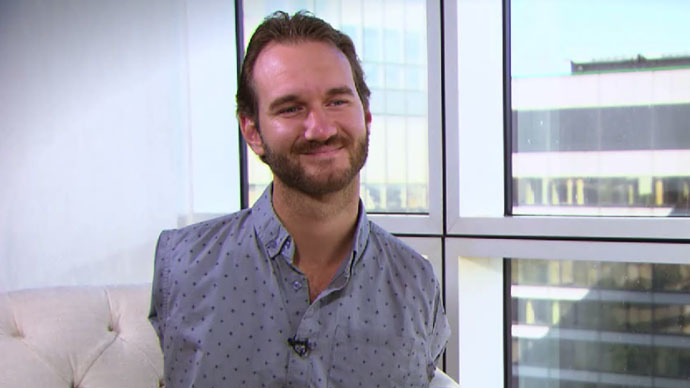 Nick Vujicic, who has packed stadiums around the world with his positive message on life and approach to overcoming adversity, told RT we all have "disabilities of fear," and you should never give up, otherwise you won't grasp your real limits.
"My message is universal, especially for 'able-bodied' people: we have disabilities of the heart, we have disabilities of fear and we need courage to overcome adversity and love one another," Vujicic told RT's Oksana Boyko in an interview on Sunday.
Vujicic says his expectation of life is "joy beyond circumstances," as it doesn't matter whether you have a job or education.
"First of all you have to know the value of you as a person, as an individual. You are irreplaceable," says Nick who was born with tetra-amelia syndrome, a rare condition characterized by the absence of all four limbs.
According to Vujicic, the value of each person "goes beyond materialistic things, what you can and cannot do."
Hope is the most important thing in the world, he says, adding that when he has hope "that actually conquers death itself." He says, "hope never dies."
"If there is anything I can communicate to anyone, it is never give up and dream big because you don't know your limits… And that's the only way I have joy and peace and strength."
The author of the book "Life Without Limits" says he believes in miracles and is waiting for them.
"I actually keep a pair of shoes in my closet in case God gives me arms and legs miraculously," said Vujicic, repeating a famous phrase of his.
When society looks at Nick Vujicic with pity, he smiles and has already learned "how to put on a brave face and say, 'Hello, how are you? Nice to meet you.'
I absolutely love speaking to teenagers. They are the generation that is going to change our world. pic.twitter.com/1TxrYgvqLf

— Nick Vujicic (@nickvujicic) March 29, 2014
"And then they realize: 'Wow, he's just like me, he just doesn't have arms and legs,'" exclaims Nick, adding that if someone doesn't want to be his friend because of how he looks, "it's their problem."
When asked about his inner desires, Vujicic answers there is "nothing on this Earth that I first would feel like I need to experience or have."
.
"I'm content. My treasure is not here. My treasure is in my faith and my family," says the husband and father. He has a two-year-old son.
Nick told RT's Worlds Apart program that he himself is his worst enemy "because I let the lies grow in my mind" such as the "lie" that he is not good enough, that he is not going to get a job, get married, touch his wife's hand, or hold his kids when they are crying.
My Boy. pic.twitter.com/DARRfXDBoG

— Nick Vujicic (@nickvujicic) August 16, 2014
"My happiness right now started with a dream… believing! Today I'm happy, I'm a speaker, I'm married. I love my life, but it was quite a journey."
The 32-year-old alluded to bullying he experienced at school. He even attempted suicide at the age of 10 after he was once badly bullied.
Aloha Maui! So excited to be here with my family! pic.twitter.com/U61xGIQ2rT

— Nick Vujicic (@nickvujicic) April 2, 2014
"What I realized about people who were teasing me that I could actually tease them about how they look. But I didn't want to do this because it wouldn't solve anything. They still have a human soul and are still on their search for their purpose."
At the age of 15, Vujicic realized God did have a plan for him, and though he didn't know what that plan was, he said he "needed to give that plan a chance."
Vujicic, who has a Bachelor of Commerce from Griffith University in southeastern Queensland, has spoken inspiringly in stadiums and other venues across the globe. He has addressed over five million people in almost 60 countries on five continents.