'It's like a war here': Saudi police raid defiant eastern province amid wider conflict with Shias
One Saudi policeman was killed and four injured during raids on a Shia-dominated oil-rich eastern province, as the Saudi-led coalition bombardment of rebels in neighboring Yemen prompted fears of the fighting spilling over the border.
It is thought the security raid in the eastern town of Amawiyah was aimed at subduing Shiite discontent with the Saudi Sunni majority. The gulf kingdom fears further escalation amid the latest regional developments and wider allegations of discrimination.
House set on fire due to #Saudi forces raid in #Awamiya#Qatif#awamia#KSApic.twitter.com/tqMdPUYzmI

— مهدي الزاهر (@alzahir_ma) April 5, 2015
Locals say 30 arrests were made, according to reports. They also accuse authorities of cracking down on anti-government protests and using it as an excuse for the raids. The region is keen to show its dissatisfaction with the Saudi coalition bombardment of Shiite rebels in neighboring Yemen, whom they see as brothers in faith.
#LIVE#SaudiArabia#Awamia: Forces terrifying ppl, arresting, shooting fire in #AwamiaUnderSiege violently!! pic.twitter.com/Mlw7aciFsl

— Labbaik Ya Hussain (@LYH786) April 5, 2015
This is aside from the more general grievances over Saudi discrimination of the Shia in nearly every sector of public life.
That the "exchange of fire" quickly turned into a gun battle is hardly a unique occurrence in the resource-rich, but poor majority-Shiite province – incidents have been happening since 2011 when the Shia (10 to 15 percent of the country's 29 million inhabitants), decided they had had enough and began engaging in activities reminiscent of the Arab Spring protests.
": هكذا صباح العوامية This is Awamiyah morning #Qatif#awamia#KSA #عصابة_ال_سعود#Awamiyahpic.twitter.com/NByUZqOT9v"

— IRAQ Electronic Army (@R00TNETWORKORG) April 6, 2015
Locals report seeing 40 armored security vehicles enter Awamiya at 15:30 (12:30 GMT) on Sunday. One anonymous resident told the Middle East Eye "the gunfire didn't stop" until 21:00. "Security forces shot randomly at people's homes, and closed all but one of the roads leading in and out of the village."
"It is like a war here – we are under siege," he added.
Alleged eyewitness footage sent to the MEE depicts gunfire, supposedly coming from the police forces. Buildings and cars appear to be ablaze in the video.
Armed locals reportedly engaged the security forces in a gunfight. Armored vehicles were allegedly still seen in the small town after sundown at 9pm (18:00GMT), as the Saudi forces set up security checkpoints and roadblocks.
The fighting follows local rumors of an anti-government protest that never actually took place.
"The protest was canceled because we were told to be careful and that if we rallied they [the security forces] would kill everyone," one local said.
Saudi Arabia's leading Sunni clerics have labeled the Shiite minority as heretics.
According to Saudi Arabian officials, the death and injuries in Awamiya on Sunday took place during a security operation to target "terrorist elements," their weapons and communications equipment. They said the raid also resulted in four arrests for targeting the security forces, according to the state-run SPA news agency.
The violence is the latest in a string of restive events that has seen some 20 people lose their lives since 2011.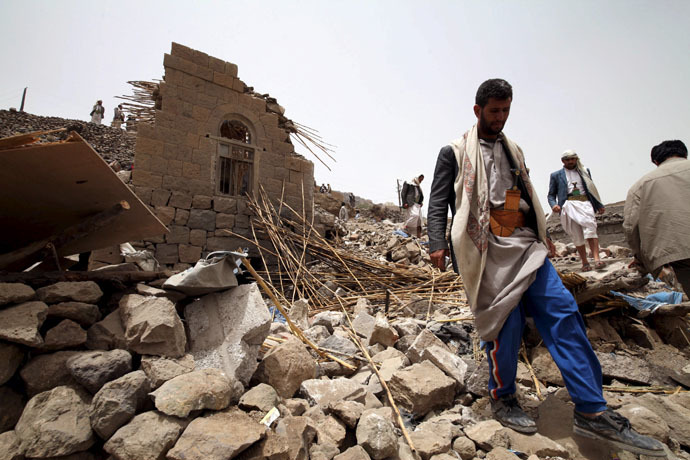 The official Saudi line is that no discrimination is taking place and it's about fighting an armed uprising.
The special op in the east of the country comes as the Saudi-led coalition kept bombarding Shiite Houthi rebels in Yemen with airstrikes, an operation that has been ongoing for over a week now, after Yemeni President Hadi was forced to flee the country. The president asked for international intervention to reinstate his rule.
Associate Professor Firat Demir at the University of Oklahoma sees this as a measure to galvanize Sunnis to target Shias wherever they may be.
READ MORE: Saudi Arabia rejects all-inclusive arms embargo on Yemen proposed by Russia
"I'm afraid the characterization of this war is quite misrepresented in international media, especially in the US press… the main goal isn't to uproot or eliminate terrorism in Yemen, but in fact to encourage terrorism against Shias. We should remember that Saudi Arabia provided 15 of the 19 hijackers in 9/11. They have the same religion – Wahabism – as Al-Qaeda and ISIS, and right now Sunnis are fighting against Shias not only in Yemen, but in Syria and Iraq. Here, the Shias are the underdogs - they are the good guys.
"Yemen is already a failed state," he goes on, remembering that the same fate befell Libya, which became "a breeding ground for extremists."
Airstrikes since Saturday morning have targeted Houthi positions near Aden and the Houthi stronghold of Saada in the north of the country. At least 193 people have been killed and more than 1,200 wounded in the fighting there. Three-quarters of the dead were civilians, a medical official told AFP on Saturday.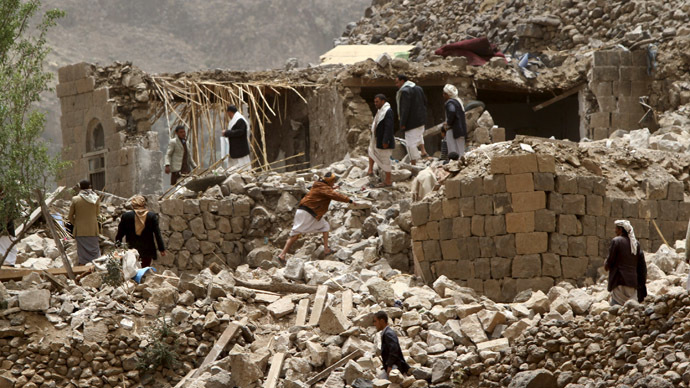 Political analyst Kamel Al Wazne believes the same. "The confrontation that is going on with Yemen is not going to leave Saudi Arabia without any consequences," he tells RT.
"Obviously there's a large minority that exists in Saudi Arabia, they've been deprived for a very long time of their basic rights and they've been treated like second-class [citizens]," he says, adding that the situation could "explode at any time."
"The Saudis are playing with fire… they invested in military equipment for years, spending probably more money than countries like India. They can resolve things with their aircraft, not knowing that their aircraft hasn't actually achieved anything. I think logic and reason and a political solution would be the answer… otherwise they made a large miscalculation entering the war."
Finally, Yemen, with its 10 million living below the poverty line, "doesn't need[bombardment]… it needs health, it needs food, it needs shelter, it needs water, it needs medical supplies," Al Wazne explains.
You can share this story on social media: