Out of this world: NASA spaceman posts stunning pics on his 1yr ISS mission
Published time: 5 Apr, 2015 15:26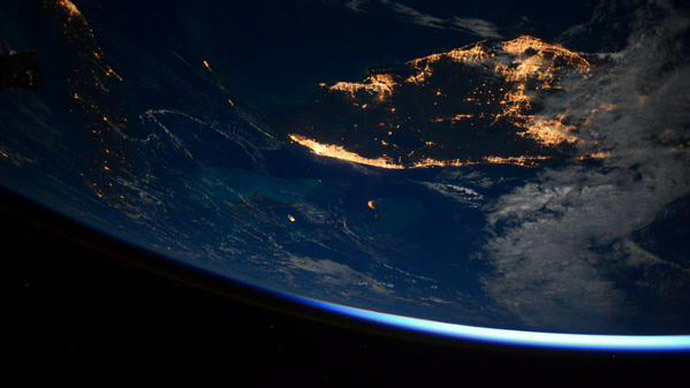 American veteran astronaut Scott Kelly, who is on a one-year mission on the International Space Station (ISS), tweets mesmerizing images of Earth from his vantage point in space.
Good morning #Texas from the #ISS. Looks like #Houston and #Austin have some #weather headed your way. #YearInSpacepic.twitter.com/boDVsCY9vX

— Scott Kelly (@StationCDRKelly) April 4, 2015
Kelly has launched a hashtag #YearinSpace so social media users can follow the extended mission on the ISS. Russia's Mikhail Kornienko is also taking part in the experiment. Gennady Padalka, the third crewmember, will be staying at the station for six months
The three blasted off from the Baikonur Cosmodrome on March 27. The American and Russian astronauts' extended stay is part of a study aimed at better understanding of spending long periods in space in a microgravity environment.
Russian cosmonauts undertook extended stays in space in the 90s at the now-defunct Mir space station. Valery Polyakov holds the record for the longest single human spaceflight, spending 437 days and 18 hours on the station.
Long distance call on #YearInSpace w/ @StationCDRKelly on @Space_Station. Watch at 2:45pm ET: http://t.co/KX5g7yYnYGpic.twitter.com/phxDrsRGmy

— NASA (@NASA) March 30, 2015
Kelly aims to be the first American astronaut to spend a year in space. He and his twin brother Mark Kelly – a retired astronaut who remains on Earth – will undergo tests and experiments during the year. After the mission their stats will be compared.
#FF to my twin brother @StationCDRKelly, who's spending a #YearInSpace and isn't bad at tweeting, either. pic.twitter.com/mDZ3j0HstN

— Mark Kelly (@ShuttleCDRKelly) April 3, 2015
The Russian cosmonauts are planning to carry out 49 experiments – almost half of them medical – as well as one spacewalk.