'Porn is not real life': Danish schools should show blue movies to students, professor says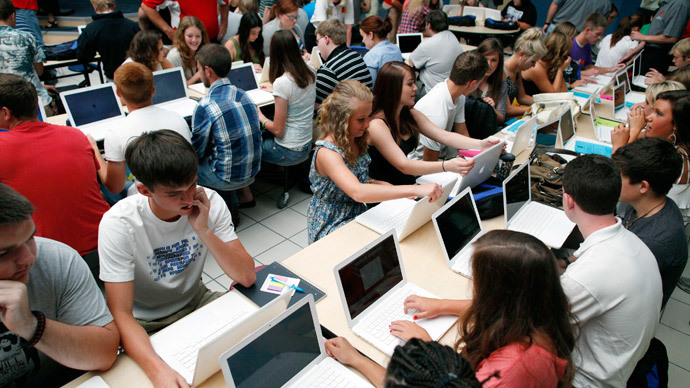 A sexology professor has called on Danish schools to show students porn to help them become "critical consumers." Christian Graugaard believes it's important for teens to distinguish between adult movies and real sex relationships.
"Instead of having sex education be boring and technical, where you roll a condom onto a cucumber, I want us to educate young people to be critical consumers who see porn with reflection and critical distance," Graugaard, a Professor at Aalborg University, told public broadcaster DR.

Denmark is among one of the world's most porn-friendly countries. It lifted a ban on pornography in 1967. In 1969, it became the first country in the world to completely legalize pornography.

According to research conducted in the Nordic countries in 2006, up to 99 percent of teenage boys and 86 percent of teenage girls watched porn.

A 2013 study from the University of Copenhagen showed that viewing online porn or sexually explicit content in magazines has little influence on the sexual behavior of teens and young adults.
READ MORE: Sexual consent & rape myths: Sex ed syllabus doesn't go far enough, say critics
Researchers carried out an online survey of 4,600 Danish youngsters, aged between 15 and 25. The study found that nearly 88 percent of boys and 45 percent of females had watched porn in the previous year. The study results showed that watching porn resulted in only a 0.3 to 4 percent difference in sexual behavior, but they did note it increased the tendency to be adventurous while having sex.

"These findings contribute novel information to the ongoing debates on the role of SEM [sexually explicit material] consumption in sexual behaviors and risk, and provide appropriate guidance to policymakers and program developers concerned with sexual education and sexual health promotion for young people," the authors wrote in the Journal of Sexual Medicine.

Professor Graugaard, who was president of the Sex and Society organization for 10 years, insists schools should help teens understand that their own sex life is not what they may see on screen.

He warned that should teens try to imitate what they encounter in hard-core porn films "it's a recipe for broken necks and disappointment," he told Danish TV.

When the broadcaster discussed the possibility of porn education at a school in Aalborg, the students were all for it.

"I think you could get something out of it – for example the difference between real love between two people who have sex and hard porn and orgies from the US," ninth grade student Anders Kaagaard told DR.

While sex education in Danish schools has been compulsory since 1970, parents can withdraw their students from classes if they so wish.

According to DR, efforts to introduce porn education in schools are underway in the UK and Sweden.
You can share this story on social media: