Shortest lunar eclipse of the century delights millions (PHOTOS)
Published time: 4 Apr, 2015 21:34
Edited time: 4 Apr, 2015 21:35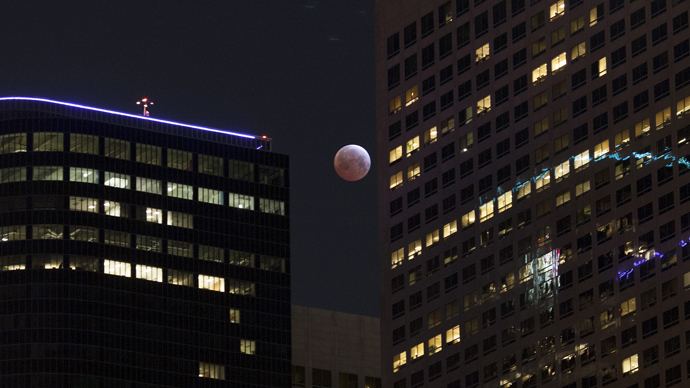 Millions of skywatchers around the globe admired the 'blood moon' in what was the shortest lunar eclipse of the century.
Early Saturday morning, the moon slipped into the Earth's shadow for just under five minutes. As the sun, earth and moon aligned, sunlight passing through the planet's atmosphere slowly darkened the moon, until it took on a burnt-orange hue.
GALLERY: 'Blood moon' dazzles skywatchers during total lunar eclipse
Hundreds of spellbound skygazers took to Twitter to post photographs of the celestial spectacle.
Oh yes… eclipse looking amazing from near Mount Cook #lunareclipsepic.twitter.com/c2mOvBCiPC

— Ian Griffin (@iangriffin) April 4, 2015
There's a bad moon rising. #lunareclipse captured by @jswansonphoto. pic.twitter.com/pedNX8sxsu

— Aspen Snowmass (@AspenSnowmass) April 4, 2015
The event was best observed from the west coast of North America, Australia, and New Zealand as well as eastern Asia.
Parts of South America, India and China were also able to catch at least part of the eclipse. However, it was not at all visible from Europe, the Middle East or Africa.
The red. Ahhh the red. #lunareclipse#Melbourne@AstroKatie@MelbourneSkies@astropixiepic.twitter.com/rH7VP0RSiY

— colliwobbles (@davexl23) April 4, 2015
Saturday's total eclipse was unusually short because the moon passed through the upper part of the Earth's shadow; longer eclipses occur when the moon passes through the shadow's center. This was the first total lunar eclipse of the year, and third in a series of four in a row, known as tetrad.
I will never forget the sight of an eclipsed moon over Aoraki tonight. Awesome #lunareclipse#NewZealandpic.twitter.com/M9b62fNVGi

— Ian Griffin (@iangriffin) April 4, 2015
NASA predicts that the fourth one will happen on September 28.
OMG so red. #LunarEclipsepic.twitter.com/d4f8H5di4p

— Katie Mack (@AstroKatie) April 4, 2015