Jihadists smash Iraq's 2,000-year-old statues to dust in new ISIS video
The Islamic State (IS, formerly known as ISIS/ISIL) has released a video of jihadist thugs using sledgehammers and AK-47s to smash what appear to be statues and walls in Hatra, an ancient 2,000-year-old city in Iraq.
In the 7-minute clip, entitled "smashing idols" posted to a militant website often used by IS, jihadists can be seen destroying carved stone faces on the ancient city walls and smashing boulders into the ancient pillars.
READ MORE: ISIS destroys third ancient city, Iraq presses for US-led coalition protection
The video is slickly made and begins with aerial footage of the site. It is accompanied by the Islamic State's signature music, found on most of their videos of killing and destruction.A jihadist speaking to camera says the historic site was destroyed because "it is worshipped instead of God."
IS claims the historic temples and relics are "false idols," which violate their fundamentalist Islamic views. Authorities believe some of the smaller statues and relics have been sold by the so-called Islamic State on the black market to help fund their campaign.
Hatra is an ancient trading center and dates back to the Seleucid Empire (323-64 B.C.) and is believed to have withstood Roman invasions thanks to its high towers and thick walls. The city's unique mix of Hellenistic and Roman architecture is a monument "to the greatness of civilization," according to UNESCO.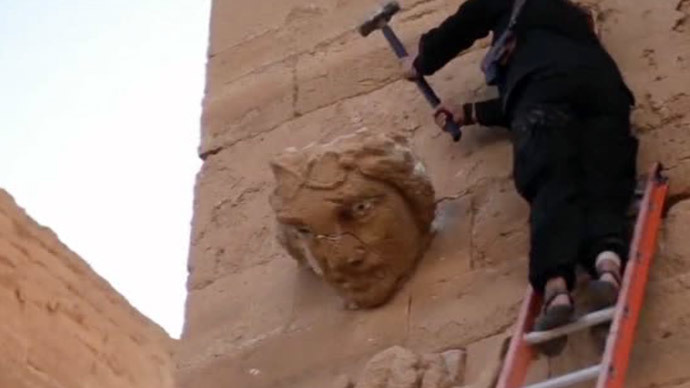 It is not completely clear just how much of the ancient city the militants have destroyed.
In March, an Iraqi tourism and antiques ministry official said it had received reports from employees in IS-controlled Mosul that historic sites in Hatra had been completely demolished.
A resident allegedly heard a powerful explosion and said IS had destroyed some of the larger buildings in Hatra, and had bulldozed others.
READ MORE: ISIS militants destroy ancient remains of 2,000yo city of Hatra – Iraq govt
UNESCO was unable to say conclusively how much damage had taken place even after satellite images were released.
"It is not clear whether damages have taken place to the site [sic]. We're in the process of analyzing the images and comparing them to the previous ones taken at the site," Giovanni Boccardi, of Unesco's World Heritage Centre, told IBTimes UK.
The latest wanton destruction follows numerous other incidents. In March, Islamic State jihadists pictured themselves destroying Christian relics in churches in Nineveh, the ancient capital of the Assyrian regime, on the eastern banks of the Tigris, also in Iraq.
In the same month, IS destroyed 3,000-year-old winged statues at the Palace of Ashurnasirpal in the ancient Assyrian city of Nimrud. UN Secretary General Ban Ki-Moon called the attack a "war crime."
You can share this story on social media: