Putin spokesman slams Times 'demonizing' Russia over perceived nuclear threat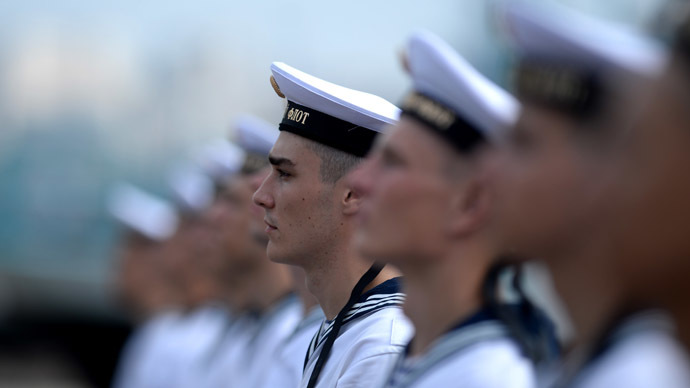 Russia never threatened to use nuclear weapons over Crimea and the Baltic States, according to Vladimir Putin's press secretary. The Kremlin official added the claims were simply 'hysteria' and a 'classic example' of the West's demonization of Russia.
"This is a classic example of the continuing hysteria and the demonization of our country. They themselves are fanning the flames concerning this. However, it is not guided by any particular facts and they themselves are afraid of what they wrote," Peskov told reporters.
The Times newspaper said that President Putin was using the threat of a "nuclear showdown" over the Baltic States, to force NATO to back away from Russia's border. They made the claims after obtaining notes of high-level security talks between former Russian and American security chiefs.
Guided-missile destroyer USS Jason Dunham to enter Black Sea,promoting stability in the region http://t.co/bDAdYRqj3Mpic.twitter.com/x1getcmDkb

— US Mission to NATO (@USNATO) April 2, 2015
US officials stated that President Putin was ready to respond forcibly to any further NATO build-up of troops in the Baltic States and they would deliver "a spectrum of responses from nuclear to non-military," the Times added.
The American military figures also stated that the Russian generals allegedly raised three flashpoints that "could lead to a direct and possibly even nuclear confrontation between the two nations."
According to the Times, the potential flashpoints include any attempt by the West to return Crimea to Ukraine, NATO supplying Kiev with lethal weapons and the Baltic States, where according to the US officials, Russian security figures said they saw, "the same conditions that existed in Ukraine and caused Russia to take action there."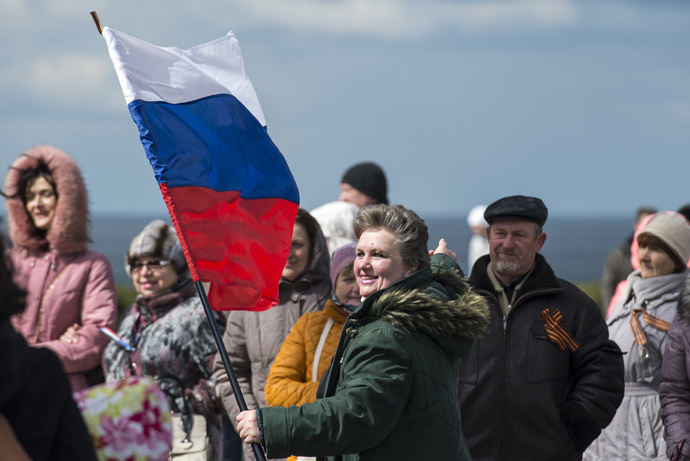 Peskov added it is "impossible to seriously acknowledge such publications." Putin's press secretary said Russia had never threatened to use nuclear weapons in connection with events in Crimea. Those who wrote the articles hadn't bothered to read the original source, which were Vladimir Putin's words concerning the recently released documentary, aired on Russian television, 'Crimea - The Way Home.'
"The president talked about this if you remember in the documentary film, which they interpret in different ways. However, they did not even bother to watch it through or even read the transcript," Peskov concluded.
READ MORE: Putin in film on Crimea: US masterminds behind Ukraine coup, helped train radicals
During the documentary, Putin said K-300P Bastion costal defense missiles were deployed in Crimea to demonstrate Russia's willingness to protect the peninsula from military attack.
"We deployed them in a way that made them clearly visibly from space," Putin said in the documentary broadcast on March 15.
The president gave an assurance that the Russian military were prepared for any developments and would have armed nuclear weapons if necessary. Putin said he wasn't sure whether Western nations would refrain from military force against Russia.
"We were ready to do this. I had spoken with colleagues and told them that Crimea is historically our territory and Russian people live there. They were in danger and we could not leave them. We did not create a coup d'état. This was done by nationalists and people with extremist beliefs. You supported them. But where are you? Thousands of kilometers away! But we are here and this is our land!" Putin said in the documentary.
Russia has long been critical of NATO carrying out military drills in the Baltic States near its borders.
Operation Atlantic Resolve: http://t.co/oFxvnXHxFk | Updated factsheet: http://t.co/TIAL5D05M8#AlliedStrongpic.twitter.com/uKYIAMPL5y

— US Mission to NATO (@USNATO) March 14, 2015
Thousands of US troops and hundreds of tanks have poured into Estonia, Latvia and Lithuania in the past two months as part of an operation dubbed "Atlantic Resolve." In February, 140 NATO vehicles and 1,400 troops swept through Narva, a mere 300 meters from the Russian border.
READ MORE: 'Army go, home!': US military convoy confronted by more protests returning to German base
"As you connect countries, there is almost a line of US troops," Defense News cited Colonel Michael Foster of the 173rd Airborne Brigade as saying on March 2. US forces have previously held joint war games with Baltic nations, with names such as "Saber Strike," "Spring Storm" and "Flaming Sword."
A 1997 Russia-NATO agreement forbids the alliance from having troops permanently stationed in the Baltic States, so the deployment remains a temporary mission. However, it's not clear when, if ever, NATO will consider the 'perceived' threat of Russian aggression is no longer valid and withdraw their troops. Drills incorporated into Operation Atlantic Resolve have been taking place since April 2014.