Istanbul hostage standoff: Captors killed in police op, rescued prosecutor dies in hospital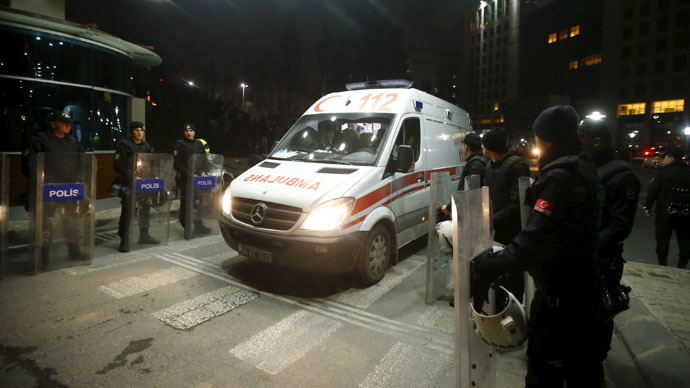 The prominent Turkish prosecutor who was taken hostage by a far-left organization on Tuesday has died in hospital, after a gunfire-filled storming of an Istanbul court in which his captors were also killed.
"We negotiated with the terrorists for six hours, but began the storm when we heard gunshots from the prosecutor's office," said Istanbul's security chief, Selami Altınok.
President Recep Tayyip Erdogan, who is on a visit to Romania, said that prosecutor Mehmet Selim Kiraz suffered five gunshot wounds, and promised to upgrade security protection for state officials. It is unclear is Kiraz was shot by the captors or the incoming security agents.
Eyewitnesses told the media that the storm began with a series of flashbangs, followed by a hail of bullets on the sixth floor, where the hostage was held. An ambulance then approached, and rapidly sped away from the scene.
UPDATE: Prosecutor at #Istanbul court taken hostage by armed DHKP/C leftist group http://t.co/hQSdsDwvJWpic.twitter.com/lMsPpMEdKb

— RT (@RT_com) March 31, 2015
Kiraz was taken hostage by the Revolutionary People's Liberation Party-Front (DHKP/C) on Tuesday afternoon. The official gained public notoriety leading the case of Berkin Elvan, a 15-year-old protester who suffered injuries during the anti-government demonstrations of 2013.
Elvan fell into a coma for nine months, and died in March last year. He has subsequently become a symbolic figure for the street protest movement.
DHKP/C posted an image on Kiraz on Twitter, with a gun to his head, followed by a list of demands. Among them a public "apology" and a "people's trial" for the officer accused of injuring Elvan, pardons for all who have protested in his name, and safe passage out of the court building.
But as the three-hour deadline set by the hostage-takers expired with no resolution, the Turkish forces evacuated all people from the courthouse, and snipers took up positions in nearby buildings.
MORE: Special forces secure #Istanbul courthouse (Pic via @abyasun) http://t.co/hQSdsDwvJWpic.twitter.com/rGx4kGJNPC

— RT (@RT_com) March 31, 2015
Local media reported that Sami Elvan, the father of the dead teenager, made a plea for the armed men to give themselves up. "My son is dead, and the official must be released," he reportedly told local media, though to no avail.
Sami Elvan: Acımız çok büyük. Çok mücadele ettik artık kimsenin burnu kanamasın diye, üzgünüz http://t.co/HTL5hC8kKLpic.twitter.com/Or4FqIWOgE

— Evrensel Gazetesi (@evrenselgzt) March 31, 2015
DHKP/C is a Marxist-Leninist outfit, founded in 1978. It's responsible for a number of assassinations and suicide bombings, and is considered a terrorist group in Turkey, the United States, and the European Union. On September 10, 2001, it killed three people in a suicide bombing.
.@AJTCanli reports that a journalist who yelled "Berkin Elvan is immortal" arrested at the scene of hostage crisis. pic.twitter.com/VTOIscnFUW

— Ragıp Soylu (@ragipsoylu) March 31, 2015
Spontaneous, localized demonstrations in support of Berkin Elvan began after the siege ended, with police using water cannons and tear gas to disperse the protests.
Police attack with tear gas on people gathering in #Gazi neighberhood #Istanbul#BerkinElvan via @evrenselgztpic.twitter.com/yWCMKeWtHB

— Spirit of Gezi (@SpiritOfGezi) March 31, 2015
You can share this story on social media: