Heavy blasts outside Yemen's capital, attack on Scud missile storage feared (VIDEO)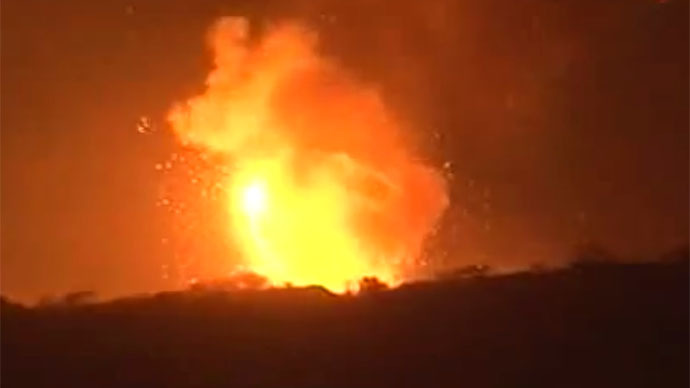 Pillars of fire are rising over the Yemeni capital of Sanaa, according to dramatic images flooding social media, amid reports that a Scud missile facility on Faj Attan Hill, just outside the city, has fallen under a new attack.
#Saudi airstrikes in #Sanaa#Yemen now pic.twitter.com/uSObVgrfGG

— Mete Sohtaoğlu (@metesohtaoglu) March 30, 2015
SCUD facility overlooking #Sanaa is in fire since more than 45mins after bombing it.. #Yemen#OpDecisiveStorm#Saudipic.twitter.com/d48AIceNe0

— Rami (@RamiAlLolah) March 30, 2015
The reports have not yet been confirmed. It is also not immediately clear whether the coalition's airstrikes are the direct cause of the blast.
People living in the neighborhood of Faj Attan mount report continuous explosions. They are terrified. Increased panic in #Sanaa. #Yemen

— Yemen Updates (@yemen_updates) March 30, 2015
The warehouses already came under fire both the previous night and the day before that. The base reportedly stores a large portion of Yemen's R-17 Elbrus (Scud-B) missiles and Transporter Erector Launchers (TEL).
The Saudi-led coalition of several Gulf States, Sudan, Egypt and Morocco has been bombing Yemen since last Thursday in an attempt to weaken the Houthi rebels, who took control of country after resignation of president, Abd-Rabbu Mansour Hadi, in January.
BREAKING: Tens of Missiles explode after #Saudi Airstrikes targets a missile depot in heart of Sanaa. #Yemen #اليمنpic.twitter.com/sYCUvUJrGQ

— Alex Saffu (@SalfiyahS) March 30, 2015
Also on Monday, an airstrike by the coalition hit a rebel-controlled refugee camp in the northern Yemen, killing 45 and injuring another 65 people, the International Organization for Migration (IMO) said.
READ MORE: '45 people killed, 65 injured': Yemen refugee camp hit by airstrike
An arms depot was also bombarded in the country's second city of Aden on Saturday, leaving 14 people dead.
"@hamzaalkamaly: #صور واضحة للانفجارات في مخازن الاسلحة الان #عاصفة_الحزم في عطان #Yemen hd pics of explosion pic.twitter.com/S6YAASkQ1M"

— Sama'a Al-Hamdani (@Yemeniaty) March 30, 2015
The Houthi uprising began in Yemen last August as the Shia rebels swept down from their stronghold in the mountains, demanding economic and political reforms.
In the following months, they seized key state installations in capital Sanaa and forced the country's US-backed authorities out.
Epic #photo.. #Sanaa mosques & explosions of SCUD storage in Atan in the background.. #Yemen#OpDecisiveStorm#Saudipic.twitter.com/UdIRZcigqx

— Rami (@RamiAlLolah) March 30, 2015
You can share this story on social media: