​US dodges accusation of killing Iranian advisers in Iraq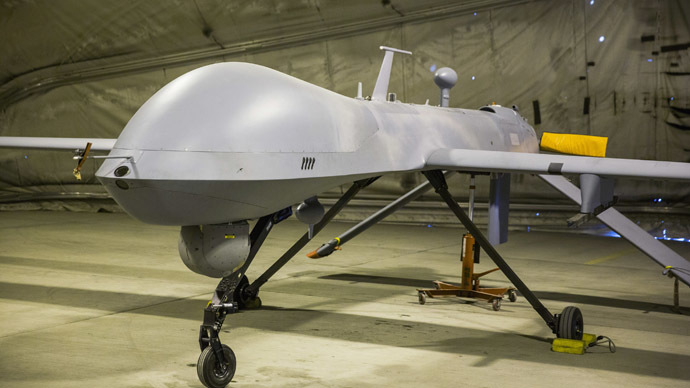 The US has indicated no involvement after accusations from Iran's Revolutionary Guard, which said an American drone strike killed two of its military advisers helping the Iraqi forces fight against the radical Islamist organization Islamic State.
The Revolutionary Guards said its people were killed in March 23, just after the US-led coalition started delivering airstrikes near Tikrit, where Iraqi forces are trying to take the city from the Islamic State, formerly known as ISIS.
The advisors were identified as Ali Yazdani and Hadi Jafari, according to a report published by the Guards' website, sepahnews.ir. Both were buried on Sunday, it added.
On Thursday three Shiite militia groups, some of which have Iranian advisers in their ranks, announced that they were pulling out of the Tikrit fight to protest American airstrikes. The US does not coordinate its airstrikes with directly Iran, leaving it to Baghdad to deal with communications.
READ MORE: US launches Tikrit airstrikes as Iraqi offensive stalls
The US Embassy in Baghdad wouldn't respond to the Iranian allegations directly, but insisted that all airstrikes are targeting only the IS militants, AP reported.
"All airstrikes are carried out at the request of the Iraqi government and in full coordination with the (Iraqi) Ministry of Defense," the embassy said.
Iran from time to time reports loosing troops in Iraq and neighboring Syria, where the Islamic State claimed large swathes of territory and is trying to build a strict Sunni state by ousting or killing everyone they don't see fit. Tehran is an ally of the Syrian government, which the US wants toppled and replaced by a new government.
The highest-ranking Iranian officer to die so far was Brigadier General Hamid Taghavi, who was killed in December 2014 in the city of Samarra north of Baghdad. And in January Mohammad Ali Allah Dadi, an Iranian general, was reported killed in Syria in an alleged Israeli raid on Hezbollah fighters.
READ MORE: Iraqi govt urged to probe killing of 22 soldiers, US-led airstrikes blamed
The US and its coalition allies are occasionally blamed in Iraq and Syria for targeting civilians or friendly troops during botched airstrikes. In mid-March an explosion in the western province of Anbar killed 22 Iraqi soldiers. While some Iraqi officials blamed the US for the deaths, Washington denied deploying aircraft in the region at the time.
The adviser death controversy comes as Iran is engaged in tough negotiations with six major world powers, including the US, over its contested nuclear power program. The talks so far failed to produce a deal, that would allow Tehran to pursue civilian use of nuclear energy
You can share this story on social media: