Turkish Airlines flight makes emergency landing in Casablanca
Published time: 30 Mar, 2015 12:28
Edited time: 30 Mar, 2015 14:55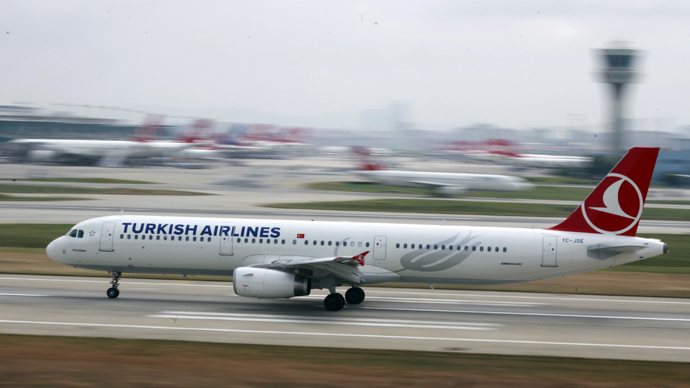 A Turkish Airlines jet flying from Istanbul to Sao Paulo, Brazil, made an emergency landing in Casablanca, Morocco, after a note with a bomb threat on it was found in the plane's toilet, reports say.
A note was reportedly found in the toilet, with the word 'Bomb' written on it, the Turkish Airlines press office said.
The AirLive.net Twitter account, which shares aviation news, said that the TK15 jet reportedly landed safely at Casablanca.
Turkish Airlines press office: a note found at the toilet cabin reading 'Bomb' on #TK15@airlivenet

— Erdem Arda Güneş (@eagunes) March 30, 2015
The Boeing 777 with 256 passengers on board landed in the North African city at about 12:30 GMT.
Police teams searched the entire cargo but didn't find any bombs.
UPDATE We have confirmation Turkish Airlines #TK15 has landed safetly at Casablanca.

— AirLive.net (@airlivenet) March 30, 2015
According to Moroccan aviation authorities, Casablanca Airport was operating normally after the incident.
On Saturday, Turkish Airlines flight TK-52 from Istanbul to Tokyo, Japan, had to return to Istanbul's Ataturk International Airport after a bomb threat. A message said that in the jet's lavatory there was "C4 cargo," in an apparent reference to the well-known plastic explosive C4.
UPDATE Bomb Threat: First pictures of Turkish Airlines #TK15 to Sao Paulo diverted to Casablanca /@sergio3spic.twitter.com/oJhMwHJqOE

— AirLive.net (@airlivenet) March 30, 2015