Germanwings hero: Captain remembered for attempts to save flight 4U9525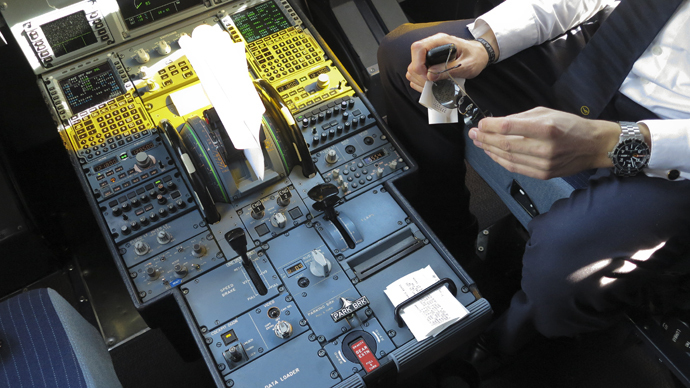 While media are talking about Andreas Lubitz, the Germanwings co-pilot accused of deliberately crashing flight 4U9525, the man who tried save the passengers and crew seems to be left in the shadows. So what do we know about him?
"Open the damn door! For God's sake, open the door!" These were the last words of captain Patrick Sondheimer, desperately pleading for his silent co-pilot to let him return to the cockpit.
His numerous appeals were in vain. Lubitz didn't react at all, and then the captain is heard grabbing an ax and trying to smash the door.
An enormous amount of gratitude to Patrick Sondenheimer for trying to stop the crash of Germanwings Flight 9525. You will always be a hero.

— Twisted Toonerberg (@TwistedTooner) March 29, 2015
His words are clearly heard on black box recordings, the transcript of which was published in Germany's Bild newspaper.
The plane was descending for about 10 minutes. This apparently seemed an eternity to Sondheimer, but wasn't enough time to break "the damn door" and to save the crew and passengers.
READ MORE: 'Open the damn door!' Germanwings captain's desperate plea to Lubitz revealed
This is a name that should be trending #PatrickSondheimer he's the pilot who tried to save 150 people, he should be remembered as a #hero

— Hannah Kenway (@hkenway29) March 29, 2015
Sondheimer, 34, previously captained long-haul flights for Lufthansa and another of its subsidiaries, Condor, for 10 years. He had more than 6,000 flying hours on A320 aircraft.
In May 2014, the married father-of-two decided to join Germanwings. With the budget carrier he was able to fly shorter journeys so he could spend more time with his family, German RP Online website reported.
Pastor Elke Bonn, head of the Catholic kindergarten in Dusseldorf attended by his two young children - a three-year-old son and a six-year-old daughter - described Sondheimer as "an outgoing, enthusiastic and helpful man who radiated happiness."
"We sang and prayed and expressed our sadness before we stood before the cross with a great light dedicated to him. It is very, very difficult for his family to come to terms with the situation," Father Karl-Heinz Sulzenfuss, who led the memorial service, said.
Please repost @OBJ_3 Remember Captain Patrick Sonderheimer #Germanwings#Heropic.twitter.com/ieS7sEj6FC

— Amy Sedlatschek (@amysuds) March 30, 2015
Sondheimer's grandmother, Marianne, told the Mirror that her grandson had dreamed of becoming a pilot as a young boy.
"My grandson is dead and all because of an idiot who did this to his whole flight and killed so many people," she said. "I just cannot understand it. How could [Lubitz] do this?"
Instead of all the coverage about the lunatic, maybe we remember Captain Patrick Sondenheimer for his efforts to break into the flight deck and save #Germanwings #4U9525

A photo posted by georgev27 (@_georgev27) on Mar 27, 2015 at 3:54am PDT
A former colleague described Sondheimer as "one of our best pilots."
"He was very reliable, I am 100 percent convinced that he did all that was possible [to save people on board]."
In this day&age where people will go2 gr8 & even fatal lengths for notoriety, fame & religion, I'd like2 honour Captain Patrick Sondheimer.

— Debora Krizak (@DebKrizak) March 29, 2015
Those sympathetic to the brave captain, took to social media, calling to remember a hero (Sondheimer) rather than a villain (Lubitz).
"Sad that the madman Andreas Lubitz will remembered for the crash, while the heroic name of Captain Patrick Sonderheimer will be forgotten," wrote @Phillygene1 user.
User @andreastemplin laments that "the news outlets focus on the co-pilot [Lubitz]," but not on the captain whose last attempt in his life was to save his fellow crew members and passengers on the fatal flight.
Facebook users have created several groups where they pay tribute to the late captain.
"I want everyone to know the HERO! And in memory of all those lost and the family's! Heaven has gained 150 angels! WE love you!!!!"said a post in one of the groups.
Sad that the madman Andreas Lubitz will remembered for the crash, while the heroic name of Captain Patrick Sonderheimer will be forgotten.

— Eugene Jackson (@Phillygene1) March 29, 2015
Captain Patrick Sondheimer, Is the heros name we should be remembering in all this, and the 150 passengers. Not the co-pilot. #Germanwings

— JOSH HEΛD (@JoshHead) March 27, 2015