Breakdown: Czech spectators give up waiting for US Army convoy after 7hr wait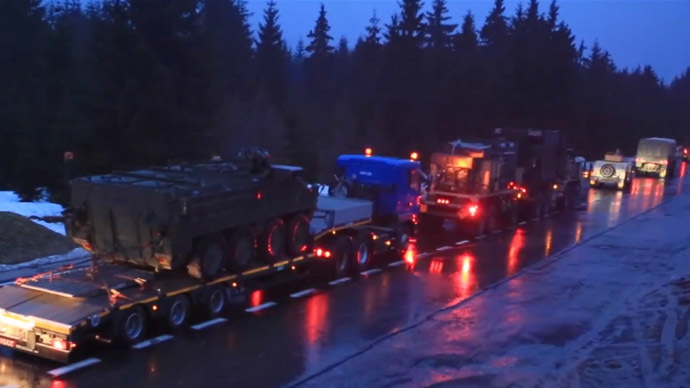 The US Army show-of-force ride over Eastern Europe was somewhat marred on Sunday, as a vehicle breakdown resulted in a seven-hour delay of the column. Dozens of Czechs gave up waiting at the Polish border to welcome them.
Some 520 US troops and 118 vehicles, including Humvees and Stryker armor are taking part in the Dragoon Ride, a tour through European countries meant to demonstrate US resolve to protect NATO allies from what Washington labels Russian aggression in Europe.
On Sunday, the force split in three separate convoys was meant to cross the border between Poland and the Czech Republic. But one of them met with an unexpected and lengthy delay after one of the Stryker armored fighting vehicles broke down some 2km from the border near the Polish hamlet of Jakuszyce.
The delay was somewhat a disappointment for dozens of Czech spectators, who flocked to the town of Harrachov just across the border to witness the largest military maneuvers the area has seen since 1968. They expected the convoy to show up around 10:30am, but had to wait until 5pm to see the American hardware roll through the town towards the barracks in Liberec where they stayed for the night. By the time the convoy came around half of the initial group had given up waiting and left, according to Czech News Agency (CTK).
READ MORE: Czechs told not to throw tomatoes, eggs at US military convoy
A minor altercation was reported at the border, when some pro-NATO activists waving US flag clashed with NATO-skeptic activists of the Czech Communist Party. The incident mirrors a larger division in the Czech Republic, where many people and politicians are uncomfortable with an increasing presence of NATO troops in the country.
Dragoon Ride will continue through the Czech Republic until early April, when the vehicles and troops are to return to their permanent base at Vilseck, Germany.
NATO has boosted its military foothold in Eastern Europe last year, saying it was a response to the events in Ukraine and the reunification of Crimea with Russia after a referendum, a move that West calls an illegal military occupation. Moscow says the transatlantic military bloc is using the Ukrainian crisis as a pretext to further encroach on Russia, as it has been doing since the collapse of the Soviet Union.
You can share this story on social media: