Tens of thousands march against austerity in Brussels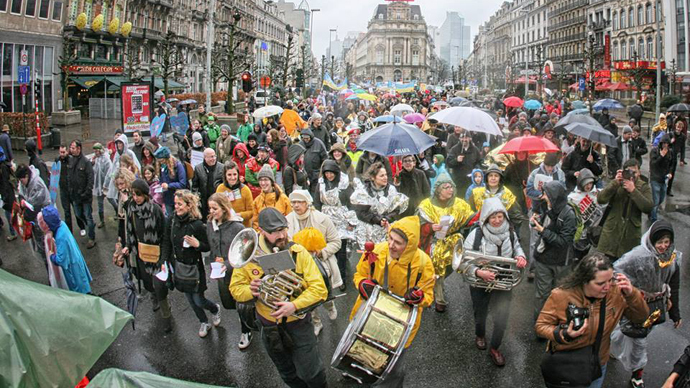 Rainy weather in Brussels did not stop tens of thousands of people from protesting against austerity measures introduced by the new Belgian government. Attendance estimates from police and organizers differed sixfold.
The rally saw somewhere between 17,000 and 20,000 people on Sunday, RTFB broadcaster reported, citing police estimates. Meanwhile, march organizers claimed that up to 120,000 people participated.
Eerst de patiënten, niet de centen. Geneeskunde voor het Volk goed vertegenwoordigd op #GroteParade#hartbovenhardpic.twitter.com/g7IGSKI30Q

— Tim Joye (@Tim_Joye) March 29, 2015
The march was organized by 'Hart boven Hard' (Heart Over Hard).
READ MORE: New €1.3bn ECB HQ inauguration marred by anti-austerity protests
©Salim Hellalet http://t.co/gcuQlfASdSpic.twitter.com/dtNufnmh7z

— Hart Boven Hard (@HARTBOVENHARD1) March 29, 2015
During the demonstration, activists spoke out against budget cuts and unfair taxation policies.
"Our society has many challenges, including economy, ecology, poverty, inequality, diversity and urban development," activist Wouter Hillaert told VTM News. "If we want to find an answer, we need to switch to a different tune than the current policy."
Friends I'm in Brussels. Seems to be plenty of anti austerity marchers in town pic.twitter.com/mWBK2RcmiV

— Tracey Proudlock (@TraceyProudlock) March 29, 2015
People carried banners reading 'Yes there is an alternative.'
Another protest is scheduled to take place in Brussels on Monday, with local labor unions organizing a wave of strikes. At least 7,000 people are expected to take part.
©Salim Hellalet http://t.co/50ZMJMHba2pic.twitter.com/SJolFAwXME

— Hart Boven Hard (@HARTBOVENHARD1) March 29, 2015
You can share this story on social media: