Air Canada flight crashes on runway in Halifax (PHOTOS, VIDEO)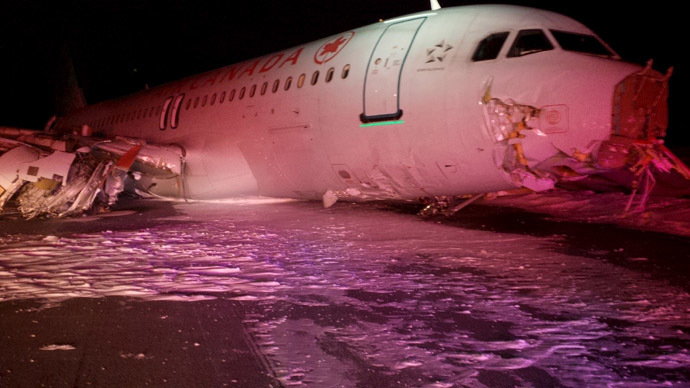 Air Canada flight 624 has crashed on a runway at Halifax Stanfield International Airport in Canada, the airline has confirmed. The plane reportedly hit power lines and sustained extensive damage upon crash-landing. No passengers were killed.
Confirms AC624, YYZ-YHZ exited runway upon landing at Halifax. All passengers have deplaned, going to terminal. More updates to come.

— Air Canada (@AirCanada) March 29, 2015
PHOTOS: A clearer image released of the #AirCanada crash landing. (via @TSBCanada) #airlivenetpic.twitter.com/IZsNfbbwvo

— Polly Rodgers (@PollyR_Aviation) March 29, 2015
Flight AC624 "exited runway upon landing at Halifax," Air Canada confirmed on Twitter. According to the airline, all passengers have deplaned and are being evacuated to the terminal. The number of people was reported as 138, including 133 passengers and 5 crew members.
"@bizjet101: C-FTJP Air Canada Airbus A320 written off landing accident at CYHZ Halifax @AviationSafety@airlivenetpic.twitter.com/elhVznOmqG"

— Natasha Pace (@NatashaPace) March 29, 2015
"An aircraft made a poor landing," airport spokesman Peter Spurway was quoted as saying by The Chronicle Herald. The crash took place at 12:30 a.m. local time (4:30 a.m. GMT).
No life-threatening injuries were reported from the scene, but many passengers sustained minor cuts and were in a state of shock.
Passengers arrive at the Alt Hotel. #cbcnspic.twitter.com/T3ZEnD1WFc

— Carolyn Ray (@carolynraycbc) March 29, 2015
Hospitals are expecting to receive up to 50 injured passengers for medical assistance, CBS News reported. The airport spokesman said that between 23 passengers and crew members had been taken to the hospital by ambulance.
Stanfield has suspended all flights for at least a couple of hours until emergency services have dealt with the incident.
#halifax@AirCanadapic.twitter.com/Fmit3drCrM

— Jeremy Addis-Mills (@JAddisMills) March 29, 2015
Air Canada flight 624 had just arrived from a 2.5 hour flight from Toronto's Pearson International Airport, according to air traffic website flightaware.com. The aircraft is a twin-jet Airbus A320.
This is the plane involved in tonight's accident in #Halifax. Airbus A320 C-FTJP #AC624. Pic via @airliners_net. pic.twitter.com/kOkBcU2FZa

— Jeremy Cohn (@JeremyGlobalTV) March 29, 2015
The crash coincided with a sudden power outage at the airport. People awaiting their flights posted pictures of pitch-dark terminals and speculated it might have been caused by the incident. The power was restored some 80 minutes after being cut off.
Pitch black inside HFX airport. I'm told a bus is headed to plane to pick up passengers. #CBCnspic.twitter.com/m4nNweIJJm

— Chris Ensing (@ChrisEnsingCBC) March 29, 2015
Parents at HFX airport say son called to tell them plane crashed on runway. He said possible minor injuries. #CBCnspic.twitter.com/seYXol8zb9

— Chris Ensing (@ChrisEnsingCBC) March 29, 2015
UPDATE: Power out at #Halifax after crash landing broke power poles pic.twitter.com/2CIq7GHDXX

— NewsFeedNetwork (@NewsFeedNetwork) March 29, 2015
RT @nspowerinc: We've restored power to @HfxStanfield. Grateful everyone is okay.

— RCMP, Nova Scotia (@RCMPNS) March 29, 2015
Initial reports from the scene indicate that the plane was badly damaged. The evacuation of passengers is being hampered by the power lines lying on the tarmac, @LawsonLeeland reported on Twitter.
UPDATE: No major injuries after #AirCanada plane crashes on runway in #Halifax – reports http://t.co/J4K3KCP7gbpic.twitter.com/xBPCaKh7sl

— RT (@RT_com) March 29, 2015
@haligonia@LawsonLeeland Ppl taking chutes down out of plane. Lights are all out at the airport as well pic.twitter.com/CIe01oRv42

— CherryBerry Halifax (@CherryBerryHFX) March 29, 2015
There are 138 passengers onboard... power lines are laying across the road making it difficult for emergency crews to pass...

— Leeland Lawson (@LawsonLeeland) March 29, 2015
Distressed relatives and friends contacting the passengers have described them as being in a state of shock. According to reports, they saw a bright flash as the aircraft clipped power lines. One of the wings of the airplane is "completely" torn off.
ERIC BOLLAND: "My wife is on that plane and just called all Very Shaken and distressed". On facebook. #cbcns

— CBCcameraman (@CBCcameraman) March 29, 2015
More from passengers on the plane: As the plane was landing, the plane clipped power lines. A bright flash could be seen. (More) #AC624

— haligonia: hfx news (@haligonia) March 29, 2015
The plane lost one of its wings completely, and they made a hard landing. (More) #AC624

— haligonia: hfx news (@haligonia) March 29, 2015
#AC624#HFXStanfield 20 policeCars Fire trucks Shuttle on scene. Everyone fine, some injuries, none serious as per AC pic.twitter.com/FyIjVBRYXw

— CherryBerry Halifax (@CherryBerryHFX) March 29, 2015
The incident at Halifax airport comes as the region endures bad weather on Sunday.

"The heavy snowfall and blowing winds have made the road conditions hazardous for driving," Halifax Regional Police warned on Saturday night.
Approaching the 107 near Ross Road. Roads are treacherous. #halifax#dartmouth#trafficpic.twitter.com/wMhOW86Mx4

— Cory McGraw (@McgrawCory) March 29, 2015
A number of road incidents were reported, with some vehicles getting stuck and preventing snow plows from cleaning the roads.
Spurway, the airport spokesman, said there was no immediate indication that bad weather was a factor in the incident. He added that it was a hard landing rather than a crash, as the plane appeared to have been under the pilot's control during the entire landing.
You can share this story on social media: