​Three Indian men face 5 yrs in jail over beef slaughter
Published time: 28 Mar, 2015 22:45
Edited time: 28 Mar, 2015 23:42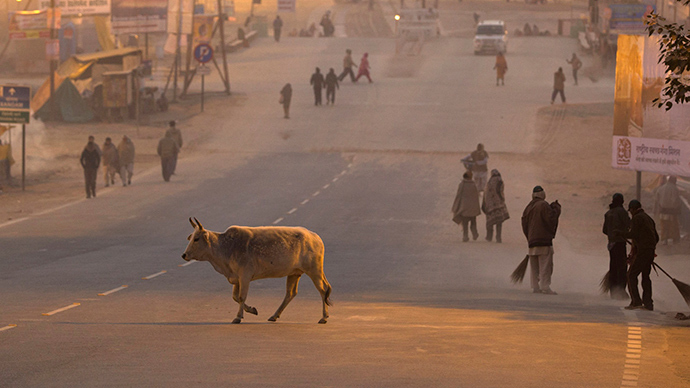 In the first case since a controversial beef ban law came into effect on March 4, police in India's Maharashtra state have arrested three people accused of slaughtering calves. They now face the possibility of five years in jail.
"We had source-based information that the two calves were illegally smuggled for slaughtering in an abandon shop within the jurisdiction of Azad Nagar police station. A team was sent but by then the accused had fled from the spot," Additional Superintendent of Police of the town of Malegaon Sunil Kadasane told The Indian Express.
"We have arrested Hamid and Rashid and are looking out for Asif," he added.
Cows are revered as holy by India's Hindu population, who make up 80 percent of the country's 1.2 billion population.
The men were booked by police under the Maharashtra Animal Preservation (Amendment) Act which came into force on March 4. Under the law, anyone found selling beef or possessing it can face five years in prison or be fined 10,000 rupees (about US$160).
Police have seized 150 kg of beef worth Rs.35,000 ($560).
The beef ban in Maharashtra is among the toughest in India and forbids the killing of all cows, calves, bulls and bullocks – and even prohibits the owning of beef. All slaughterhouses in the state have also been shut down.
The Muslim community, members of which often work in the meat business, said the government is failing to protect their rights, as many of them are involved in the beef trade.
"We feel disappointed and cheated by the present government. They are spending around Rs.1000 crore in protecting cows, bullocks and buffaloes, but what about us? We are human beings. What about our interests? We are left jobless," Naeem Qureshi, a Malegaon resident, told The Indian Express.
Most beef sold in the Indian domestic market is actually buffalo meat, which is of poorer quality, but is not considered to be sacred.
Last week, Haryana state in northern India also banned the slaughter of cows and the sale of beef. The law, as well as guaranteeing a lengthy jail term for anyone caught killing a cow, also intends to provide for special institutions or cow sanctuaries to take care of sick, injured, and stray cows.
Despite the holy position of the cow in India, the country is the second biggest exporter of beef in the world. The nation had the most cattle of any country in the world – more than 301 million – in 2014.