Germanwings co-pilot planned to 'make everyone remember' him, ex-girlfriend says
Published time: 28 Mar, 2015 09:59
Edited time: 28 Mar, 2015 15:23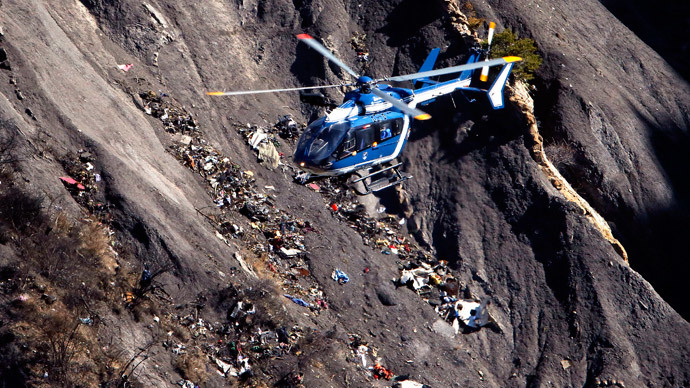 Andreas Lubitz, the Germanwings co-pilot who crashed an Airbus A320 into the French Alps, killing all 150 passengers aboard, had been planning to do something to "make everyone remember him," his ex-girlfriend has claimed in an interview.
Speaking with Bild, Maria W., a 26-year-old cabin crew employee whose full name has not been released to the press, described Lubitz as "tormented" and secretive.

Maria recalled that when she heard about the crash, she remembered how Lubitz had said he would do something one day "that would change the system" so "everyone will then know my name and remember me."
Ex girlfriend of Andreas Lubitz says he was "tormented"? @ what point does the airline stop monitoring the mental health of its pilots? FAIL

— Jonathan Levin (@Gawiesnr) March 28, 2015
"I did not know what he meant by that at the time, but now it's clear," she told the newspaper.

Maria said Lubitz, 27, sometimes woke up at night screaming, "We're going down!" in terror.

Dusseldorf prosecutors said Friday that police discovered in Lubitz's home a torn sick note covering the date of the crashed Germanwings flight. They believe he could have been concealing his medical condition from the airline. It wasn't specified what prompted Lubutz's doctor to issue him with a medical certificate, however.
READ MORE: Germanwings co-pilot 'hid illness,' medical leave note from employers - prosecutors
"The fact there are sick notes saying he was unable to work, among other things, that were found torn up, which were recent and even from the day of the crime, support the assumption based on the preliminary examination that the deceased hid his illness from his employer and his professional colleagues," a spokesman for the prosecutors' office in Dusseldorf said.

The black box voice recorder has indicated that the Germanwings co-pilot locked his captain out of the cockpit and deliberately crashed the plane into a mountainside in what appears to have been a case of mass murder and suicide. The unprecedented tragedy has shocked the aviation world. Several airlines have responded by changing their rules to require a second crew member to be in the cockpit at all times, a rule that is already in effect in the US, but not in Europe.
GWings, Co-pilot, #AndreasLubitz Age 28 pic.twitter.com/ye6mjdrp7Y

— Scott S. diVincenzo (@sojournimages) March 26, 2015
Bild reported Friday that Lubitz had spent 18 months undergoing psychiatric treatment. Lubitz allegedly sought psychiatric help for "a bout of serious depression" in 2009 and was still getting assistance from doctors. The newspaper also claimed it had gained access to Lubitz's profile, indicating the pilot had "psychological problems" and required a "special, exemplary regular medical examination". It also cited sources familiar with the investigation, alleging that after a recent breakup with his girlfriend, Lubitz was suffering from a "personal life crisis."
Sad how everyone will remember the name Andreas Lubitz. How many will remember the captain who tried to save everyone - Patrick Sonderheimer

— Simon Brownbill (@SiBrownbill) March 27, 2015
According to Lufthansa CEO Carsten Spohr, Lubitz in 2009 suspended his pilot training, which began in 2008, "for a certain period" before restarting and qualifying for the Airbus A320 in 2013. According to Bild, the break was related to "depression and anxiety attacks."
Düsseldorf University Hospital said in a statement Friday that Lubitz had been undergoing diagnosis there since last month, DPA news agency reported. "Reports telling that Andreas L. [Lubitz] received treatment against depression at our clinic are inaccurate," a hospital spokeswoman said, adding: "It was diagnostic tests."
Reports have also surfaced that Lubitz sought treatment for vision problems, two officials involved in the investigation told The New York Times on Saturday. The reports have not been confirmed by investigators. A spokesperson for the Dusseldorf University Hospital declined to comment on whether he received treatment eyesight related problems, citing patient privacy laws, the paper said.
Germanwings has offered the families of the victims of the tragedy, around half of whom are German citizens, "up to 50,000 euros" ($54,800) per passenger towards their immediate costs, a spokesman said Friday.