Major power outage throughout northern Holland (PHOTOS, VIDEO)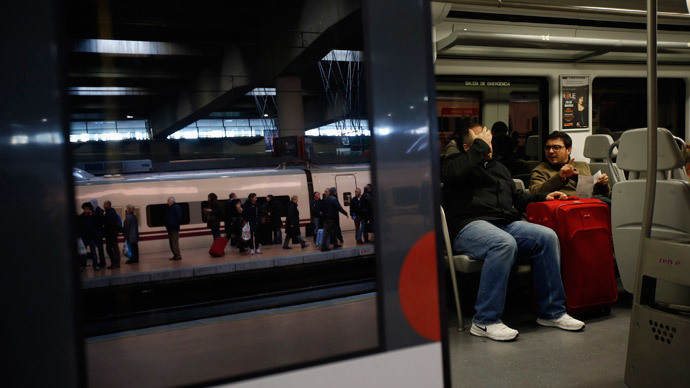 Large areas of the Netherlands have been left without electricity. The north of the country has been mainly affected, with the Dutch electricity network operator saying the outage has been caused by a power grid overload.
The capital Amsterdam has been hit, along with the area around Schiphol Airport. Twitter has reported that some hospitals in Amsterdam have been left without power, while the tram and metro networks are also not running in the capital. Thousands of people have been stuck on public transport because the doors will not open as they are controlled electronically.
Power blackout in Amsterdam, hectic times on the floor #powercut #stroomstoring

A photo posted by Rob (@robvm) on Mar 27, 2015 at 2:11am PDT
Omvang van de #stroomstoring. Volg de laatste updates in ons liveblog. http://t.co/eYjnVEZz8Ypic.twitter.com/CpsQ0V3RYE

— RTL Nieuws (@RTLnieuws) March 27, 2015
The outage was caused due to a defect at a substation in Diemen, according to TenneT, the company which is responsible for supplying power in the Netherlands. Staff members are currently on site and are investigating the exact cause.
"Once we know the cause, we will be able to say how long it will take to get power supplies back on line," a spokesman for the company said.
TenneT has stated that power has been restored to some parts of North Holland, however, significant parts of the region are still without electricity.
UPDATE Power outage: air traffic to Amsterdam is severely disrupted. Flights diverted to other airports /@JCdeGraafhttp://t.co/3eZtM2GBON

— AirLive.net (@airlivenet) March 27, 2015
All flights to and from Schiphol, Europe's fourth largest airport, had been were briefly canceled. A spokeswoman said "We are experiencing a lot of problems due to the outage," with inbound flights redirected to other regional airports.
Air traffic has been severely disrupted due to a power failure in the area. Airport is running on emergency power.

— Schiphol (@Schiphol) March 27, 2015
The airport tweeted that at 10:45am they were able to get some power back from another source and traffic is slowly starting to pass through the airport.
The power is back on again since 10:45. Air traffic will slowly be continued again. For up to date flight information, check our website.

— Schiphol (@Schiphol) March 27, 2015
UPDATE Amsterdam Schiphol airport had a temporary outage and operating on backup power: http://t.co/bNQFQ0kxPtpic.twitter.com/AMlQboKxZx

— AirLive.net (@airlivenet) March 27, 2015
Onder meer het treinverkeer heeft veel last van de stroomstoring. Lees hier ons liveblog: http://t.co/z81KI7OP8opic.twitter.com/KfNVvJfb7Q

— NOS (@NOS) March 27, 2015
En er was licht! #schipholpic.twitter.com/vOVumTi12w

— Jurjen IJsseldijk (@JurjenIJ) March 27, 2015
Police chiefs in Amsterdam say they are putting all their officers on the streets because alarm systems are not working, according to the Dutch website ad.nl.
Almodt ready for take off #stroomstoring #duurtlang #schiphol #klm

A photo posted by Mariette van gils (@jetvangils) on Mar 27, 2015 at 2:14am PDT
Spookachtig in de #Makro #stroomstoring

A photo posted by @daphnechannahorn on Mar 27, 2015 at 2:17am PDT
Although the power cuts have caused a great deal of disruption to those living in the north of the Netherlands, people have still managed to show they have a sense of humor.
The raptor fences aren't out, are they? #stroomstoringpic.twitter.com/dAnB1w2lw0

— Nico van den Brink (@Nico3000ME) March 27, 2015
You can share this story on social media: