'Сolonial racism': French court orders baker to remove 'obscene' cakes depicting oversized genitalia
Published time: 27 Mar, 2015 09:26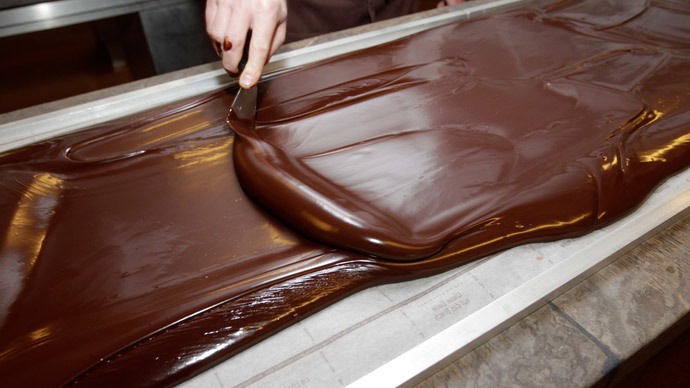 A court in southern France has ordered a local baker to remove "racist" chocolate cakes depicting oversized genitalia from a shop after they were deemed an "affront to human dignity." Their maker has denied the accusation of inciting racial hatred.
The pastries had caused a controversy in early March, when the Representative Council of Black Associations (Cran), considered them racist and had filed a petition for fundamental liberties against the city of Grasse, in the Alpes-Maritimes department of southeast France.

Cran learned about the cakes from one customer and had also seen in the sweet pastries, which are in the form of obese characters covered in dark chocolate and boasting oversized genitalia, "obscene and offensive slave trade caricatures which revive the old tradition of colonial racism."

The Nice administrative court has ordered the city of Grasse to prohibit "In Grasse delights" bakery to showcase the cakes called "Gods" and "Goddesses" in order "to maintain public order," Le Parisien reported.
Grasse : le boulanger devra retirer ses pâtisseries polémiques >>http://t.co/LR3SmYtVPppic.twitter.com/4UAlPvcLOM

— Le Parisien (@le_Parisien) March 26, 2015
The anti-racism group said in a statement that "these treats are inspired by colonial fantasies about the blacks and make fun of African religions presenting these deities in a grotesque way just good to be chewed."

Yannick Tavolaro, the baker behind the controversial cakes, has denied the allegations of racism. "I do not understand why and how this controversy has emerged. [The cakes are] nothing new. I've been making these pastries for the last 15 years and they are sold in my three shops," he told the newspaper.

But Louis-George Tin, Cran's president, said: "It's pure and simple racism."

"We are in a country where the word equality is part of the constitution, which means it doesn't allow for racism. Does he think these treats adhere to the values of the French Republic?" he told The Local prior to the court ruling.

"We must fight this kind of racism. I cannot imagine what would be said (rightly) if an African baker decided to represent Jesus Christ or the Virgin Mary in a similar way," Tin said.
READ MORE: Gay marriage cake controversy - Christian bakery faces legal action

Tavolaro said the allegations were just somebody's sick interpretation: "If there were any racist connotations, I would not receive any orders for these cakes.

The only thing that people complain of is that they are covered in dark chocolate. If they were covered in white, nobody would be upset. But dark chocolate is easier to work with and sticks better, that's all," he told Le Parisien earlier this month. "No one knows my story and people judge me on these pastries. I'm not racist," he said, adding, "not more than my clients."

It's not the first time a French bakery has come under fire for alleged racist confectionery. A pastry shop in Auxerre, the fourth largest city in Burgundy, was forced to change the name of its biscuits named "Bamboula" and "Negro" after complaints from anti-racism groups in September.