Multiple casualties in north India train derailment
Published time: 20 Mar, 2015 05:57
Edited time: 20 Mar, 2015 07:30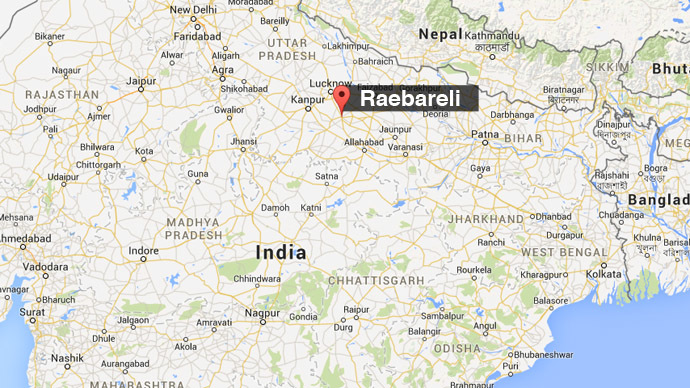 Six people were killed and 40 others injured when three coaches of a train derailed in Uttar Pradesh, northern India. The injured people have been admitted to nearby hospitals.
Conflicting reports suggest there are more fatalities from the derailment than officially stated.
27 people feared dead, dozen injured. #JanataExpressDerails. 15 medvans & medical teams rushed 4m Lucknow. @htTweetspic.twitter.com/EbxLu2xujg

— Haider Naqvi (@haidarpur) March 20, 2015
Janata Express derails near Rae Bareli. Casualties feared. @htTweetspic.twitter.com/C7gH4B8Olu

— Haider Naqvi (@haidarpur) March 20, 2015
Several people are also feared trapped in the wreckage, and rescue workers, along with villagers, have been trying to locate and rescue them.
The Janta express train 1422 was traveling from Dehradun to Varanasi. "One engine and two coaches have been derailed," according to Chief PR officer Neeraj Sharma, as quoted by IBN media outlet.
DETAILS: 3 cars of Janata Express train derail in northern India, at least 15 dead http://t.co/vsvKs4g0t1pic.twitter.com/UKtiRHVtfh

— RT (@RT_com) March 20, 2015
Uttar Pradesh: Three coaches of Janta Express train derail in Raebareli: Six people are feared to be dead while 40… http://t.co/v5wqmVP1rq

— Muthu Krish (@MK_MuthuKrish) March 20, 2015
Two lakh rupees (about $3,000) would be provided to the families of those killed, while 50,000 rupees (about $800) would be given to relatives of those injured in the derailment, according to a statement from the office of Uttar Pradesh Chief Minister Akhilesh Yadav.
The cause of the derailment remains unknown, but authorities suspect that the brakes of the engine failed, International Business Times reported.
TRAIN INDE Au moins 15 morts et plus de 150 blessés dans un accident entre 2 trains à Raebareli (nord) pic.twitter.com/epboJdpMn4

— infos140 (@infos140) March 20, 2015
One of the carriages involved in the accident was apparently empty, resulting in a lower death toll.
India's railroad network is one of the world's largest and carries more than 23 million passengers each day.