Christian Taliban? Ukraine nationalist craves jihad against Russia, reports Intercept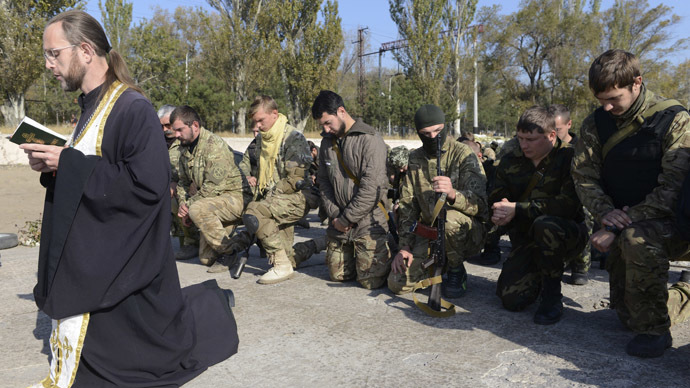 A Ukrainian ultranationalist of Polish descent wants to turn the armed conflict in the east of the country into a crusade against Russia. The Chechen war veteran wants to amalgamate Orthodox Christianity with Islamic jihadism against Russia.
The leader of the Ukrainian 'Bratstvo' (Brotherhood) political organization, Dmitry Korchinsky (Dmytro Korchynsky), intends to create a sort of Christian Taliban to wage a holy war against Russia, the Intercept reports.
Korchinsky believes his mission is to establish an original ideology that makes an unholy alliance between messianic Christianity and jihadist Islam, citing the examples of Hezbollah, the Taliban and Al-Qaeda.
The dualism of the new religious movement could be beneficial for Ukraine, says Korchinsky, who sees his community as a tool to carry out higher order tasks that the Ukrainian government doesn't formally control.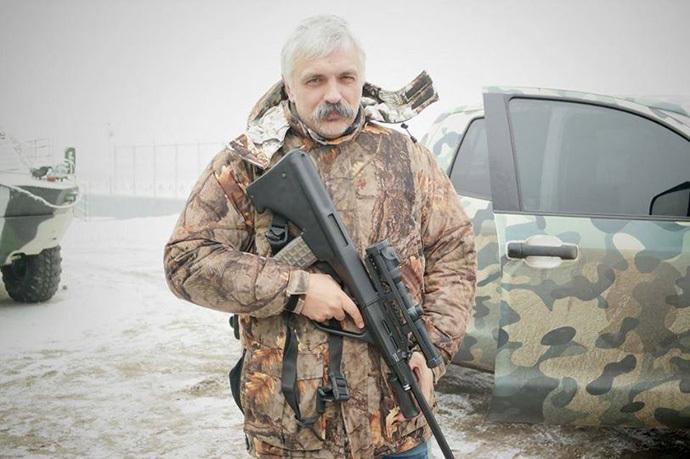 He wants to change the regional conflict in eastern Ukraine into a religious war against Russia, seeing it as the only option to defeat the bigger and stronger neighbor.
Korchinsky is also a commander of the St. Mary's Battalion, one of many privately-funded paramilitary units fighting rebel groups in eastern Ukraine alongside Kiev's troops and the National Guards.
St. Mary's Battalion was formed to defend the strategic city of Mariupol on the Sea of Azov, a key port for Ukraine's iron and steel, and coal mining industries.
The volunteers that come to Bratstvo recruitment point in the capital, Kiev, to join the St. Mary's Battalion are usually young people between 18 and 25 years old. Only a few of them have served in the army and know how to handle a gun.
RT @MKochegura @ajaltamimi@MastaKace Christian jihad on both sides in Ukraine Pro-#Ukraine Battalion of Holy Mary . pic.twitter.com/rRjLqQkoTz

— The DOOMMM!!! Club (@12nb34) September 26, 2014
After completing their enlistment forms they are sent to the battalion's base in Mariupol, where they get just a few weeks of military training.
Such volunteer battalions technically fall under the control of the Interior Ministry, but they operate independently in practice.
There is a lot of evidence that many of the volunteer battalions praise Nazi ideology, but Korchinsky's men differ in that they are religious and zealous.
Korchinsky told journalist that his men are not Nazis, rather patriots and nationalists.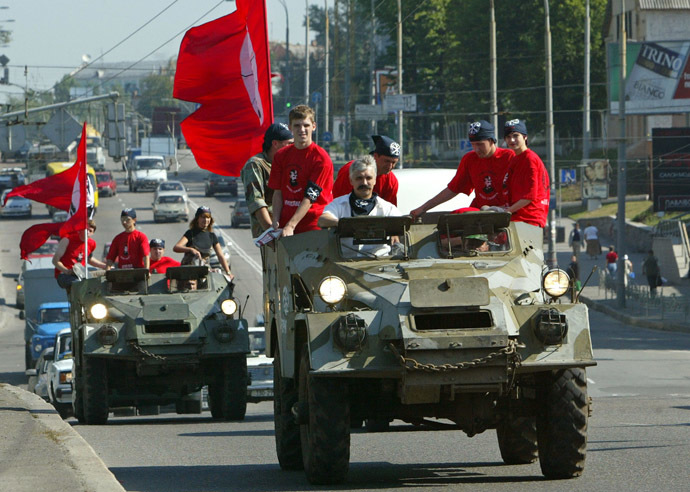 Bratstvo, along with other ultranationalist Ukrainian groups such as Right Sector, Trezu, UNA-UNSO and UPA, are proscribed as extremist in Russia following a ruling by Russia's Supreme Court on November 17, 2014.
"Everything with us is based on faith in Jesus Christ," a St. Mary Battalion's fighter with the call-sign 'Partisan' told the Intercept. "We believe that only a religious community can win in today's world, and in a society where all our values have declined in importance and only faith survives. War makes this evident. There is no place for atheists when there are mortars and rockets firing."
But Christianity is not the not only thing that drives the St. Mary Battalion volunteers.
Pro-#Ukraine Battalion "Holy Mary" @MastaKace@faysalitani@ajaltamimipic.twitter.com/BQcOdhTzlH

— The DOOMMM!!! Club (@12nb34) December 5, 2014
While the Islamic Taliban movement sees the US as its primary adversary, Korchinsky and his St. Mary's Battalion envisage Russia as the Great Satan, after the Muslim fashion.
Korchinsky explained that the main difference of his organization from the modern radical Islamists is that St. Mary's Battalion is not interested in destroying the world order, because it values civilization, hot water in the bath and a functional sewerage system, but also want to be able to fight for their ideals.
Unusual transformations of Korchinsky's beliefs that taught him the advantages of mixing up religion and politics began in early 1990s, when he joined Chechen militants in the North Caucasus and allegedly fought against Russian troops.
READ MORE: Russia to add 2 Maidan leaders to intl wanted list over Chechen militant links
The Ukrainian economy is on the brink of collapse, with the populace showing little faith in its leaders' ability to remedy the situation.
READ MORE: Over 50% of Ukrainians fed up with President Poroshenko's policies – poll
The only way to avoid the collapse of economic and utility institutions is, Korchinsky believes, is to create a new national elite united on the basis of a 'jihad' of Ukrainians against the Russians.
Korchinsky told the Intercept that he needs to create something like a Christian Taliban, which can succeed in a war with Russia, just as the Taliban is now driving the Americans out of Afghanistan.
A pragmatic Korchinsky hopes to initiate a real conflagration in southern Russia, where underground structures have allegedly already been formed by his people. One day, as Korchinsky says, his compatriots are going to receive the signal to start a war on the Russian territory, the way the Islamic State did it in Iraq and Syria last year.
In the 1990s, when Korchinsky fought in the ranks of Chechen separatists, he did it because he hated Russia, not because he sympathized with Islam.
Korchinsky shared that he still has contacts with Chechen fighters in the Caucasus and with Muslims fighting now in Ukraine.
He refused to divide people based on religions, because according to him Ukrainians and Islamists have a much worse enemy: the Russian Federation.
At the end of the interview Korchinsky promised to fight until Moscow burns.
You can share this story on social media: