2 Lithuanian railway stations cordoned off after 'train with Russian conscripts' scare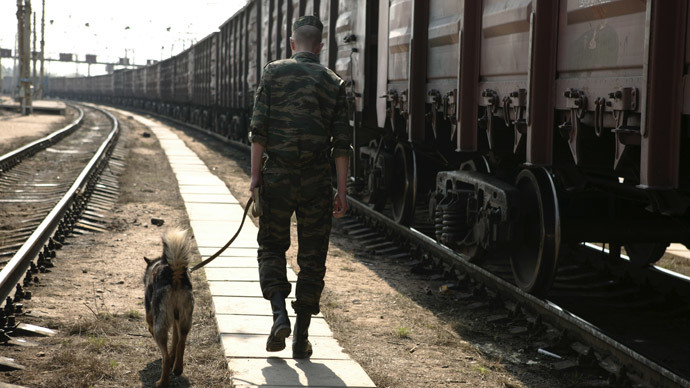 Police and border guards briefly surrounded two railway stations in Lithuania's Vilnius and Naujoji Vilnia after an alleged tip-off suggesting Russian troops were heading to the country by train, local media reported. The scare turned out to be false.
Law enforcement representatives were on high alert on Thursday after the Consular Department of the Ministry of Foreign Affairs tipped-off security officials that there were "a lot of young men eligible for military service" heading from Russia's Kaliningrad via Lithuania, a border official said, as cited by local media.

"That's the reason why we heightened security. Our employees checked the train, however all passengers had valid documents, visas. We had no complaints, so we couldn't deny entry to our territory," a representative of the border guard, Rokas Pukinskas, told lrytas.lt

"According to our intelligence, maritime academy students [were in the train] heading [via Lithuania]," said Minister of National Defense, Juozas Olekas, as quoted by local media.

When asked why such drastic security measures were taken, the minister replied that it was a precaution "so that others do not attempt to go."
Meanwhile, on Thursday, Lithuanian MPs overwhelmingly voted in favor of returning compulsory military service. Lithuania's defense minister, who presented the bill before parliament, tied it to the current Ukrainian conflict, Baltic news portal Delfi reported. The measure will be effective for at least five years.
READ MORE: US, Bulgaria to hold Balkans military drills amid Ukraine crisis
Lithuania scrapped conscription in 2008 several years after the country joined the North Atlantic Treaty Organization (NATO). However, in February President Dalia Grybauskaite urged for its reinstation it due to "new geopolitical circumstances."
Lithuania, is an ardent supporter and member of NATO, which has taken a stronger line over an alleged 'Russian threat' in the Baltic region. NATO has been conducting naval drills in the Black Sea concurrently with US military exercises in the Baltic states.
READ MORE: Hornets' nest: Massive drills across Russia, 20 ships in Baltic Sea (PHOTO, VIDEO)
Wrapping up its NATO exercises in Poland, the US Army is planning to move its manpower and heavy vehicles through the Baltics March 21 through April 1, DefenseNews reported on Thursday.

"It's helped us further develop our understanding of freedom of movement in Eastern Europe," said the US army's senior commander in Europe, Lt. Gen. Ben Hodges.

Russia is has simultaneously been holding massive drills of all its military branches across the country, from the Arctic through to the Baltic and Black Sea.

On Wednesday, the Russian Western Military District's press service announced that more than 20 ships of Russia's Baltic Fleet are out at sea conducting defense drills.

Moscow has refocused its major rearmament plan for the next 10 years span, Defense Minister Sergey Shoigu said in January. In 2015 Moscow will place a particular focus on reinforcing its military in the Crimean peninsula, Kaliningrad Region, and in the Arctic, according Russia's chief of General Staff, Valery Gerasimov.