Moscow's landmark 16th century Novodevichy Convent on fire (PHOTOS, VIDEO)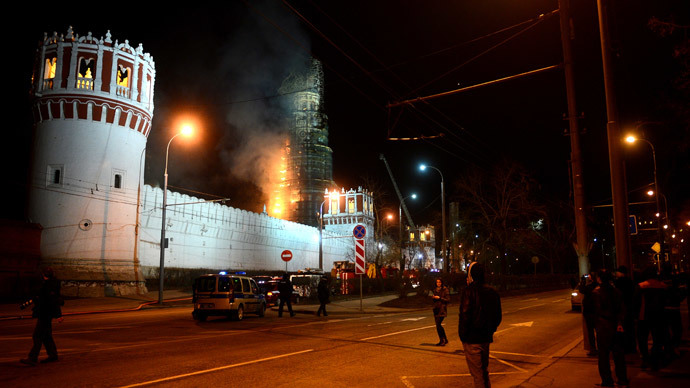 Emergency crews have extinguished a fire that raged for three hours at Moscow's iconic Novodevichy (New Maiden) Convent. The blaze was concentrated on scaffolds surrounding the convent's bell tower. Authorities are currently estimating the damage.
The fire was reported at 22:41 local time. Firefighters arrived four minutes after receiving the emergency call.
Witnesses said the fire could be seen above the walls of the monastery. Initial reports suggested the surface area of the fire was about 300 square meters. The cause of the blaze is being investigated.
Bell tower at #novodevichy monastery on fire in #Moscow Emergency services are here. 100 sq meters affected pic.twitter.com/hcsYrwEovf

— Roman Kosarev (@Kosarev_RT) March 15, 2015
Novodevichy monastery is on fire pic.twitter.com/lbk2Uyrq8s

— Alec Luhn (@ASLuhn) March 15, 2015
The bell tower was in the process of being restored; the refurbishment began in September and was due to be finished in August 2015. The contractor responsible for the restoration has denied that any work was being carried out when the fire started, adding that Sunday is a day off and that all electric circuits had been deactivated.
Initial accounts from officials suggested that no serious damage was caused to the listed building.
"There was no serious damage [caused] by the fire, only the scaffolding was on fire and the blaze did not start inside the bell tower. In any case, the building has been insured and everything will be restored," Deputy Russian Minister of Culture Grigory Pirumov told TASS.
Fire at the top of Novodevichy tower mostly out but the side is in a bad way. Really hope this is mostly scaffolding. pic.twitter.com/Bvc3MgjJoV

— max seddon (@maxseddon) March 15, 2015
However, the Orthodox Church has expressed concern about the condition of two unique bells inside the tower.
The convent is one of the most famous tourist attractions in Moscow and was proclaimed a UNESCO World Heritage Site.
The site is also famous for its cemetery, where numerous prominent Russian people have been buried; among them are writer Anton Chekhov, former Soviet leader Nikita Khrushchev, composers Sergey Prokofiev and Dmitry Shostakovich, legendary stage director Konstantin Stanislavsky, former President Boris Yeltsin, and musician Mstislav Rostropovich.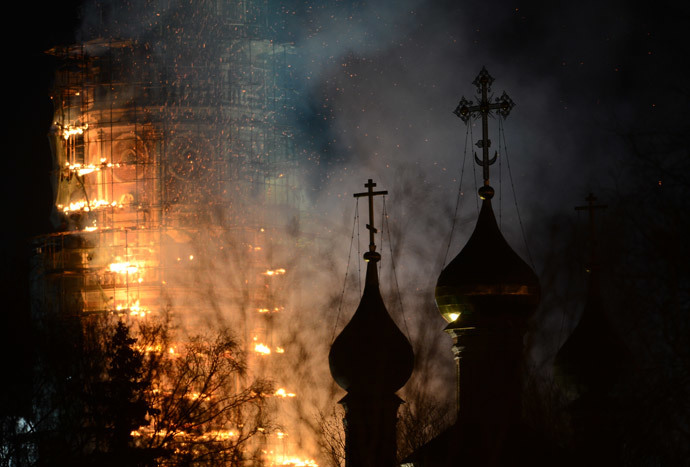 Fire almost out at #novodevichy monastery in #Moscow . Area cordoned off. Waiting for comment. pic.twitter.com/UDMqXlPzUW

— Roman Kosarev (@Kosarev_RT) March 15, 2015
You can share this story on social media: