Eagle's eye view: Cam-equipped bird flies off Dubai skyscraper, sets world record (VIDEO)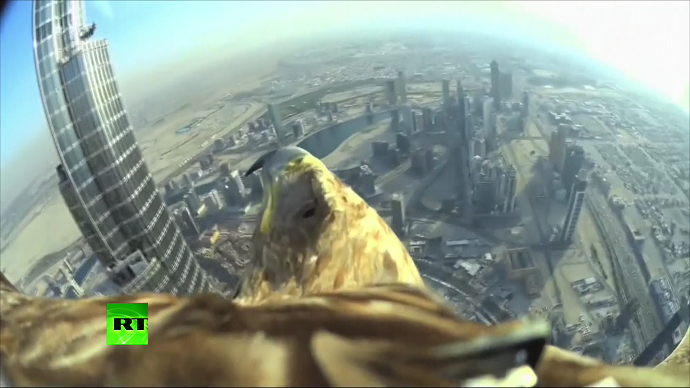 Darshan the Eagle has set a new world record in a breathtaking mini-camera video that shows highest recorded bird flight from the tallest building in the world – Dubai's Burj Khalifa – in an effort to bring awareness to eagle conservation.
The camera strapped on Darshan shows off the entire flight from a bird's eye view, capturing stunning Dubai's architectural landscape.
The bird of prey began its flight from the top of the 829.8-meter (2,722-foot) Burj Khalifa. After circling around, Darshan suddenly began to free-fall all the way to the ground, eventually landing on his trainer's arm.
People watching the flight cheered, as they filmed the record-breaking event.
"Darshan is a male Imperial Eagle with a wingspan of two metres," the bird's trainer and founder of Freedom Conservation, Jazques-Olivier Travers, told Gulf News. "He is a very powerful bird, which is necessary as he is donning a 300g camera on his back."
RT Jacques-Olivier & Darshan the Eagle at the Burj Park landing site. #flyburjkhalifapic.twitter.com/hBJDpNzYYc@victortheeagle@Ushuaia_TV

— Save Our Species (@SpeciesSavers) March 12, 2015
The event was organized to promote the awareness on the plight of the endangered birds of prey, listed in the International Union for Conservation of Nature (IUCN) Red List of Endangered Species. Freedom Conservation's aims to protect and reintroduce the endangered birds into their natural habitat.
Previously, Darshan has performed flights from the Eiffel Tower in Paris and St. Paul's Cathedral in London.
READ MORE: Wings of a scandal: Saudi princes stopped trying to take rare falcons out of Russia
The problem of birds conservation is particularly acute in the Gulf states due to the tradition of the hunting season, when royal families from Saudi Arabia, Qatar, Bahrain, Kuwait and the UAE go after the rare species.
While the practice usually relies on foreign smugglers, some royals have even been caught smuggling endangered birds from countries such as Russia first-hand. This trend is believed to be contributing to the sharp decline in the falcon population.
You can share this story on social media: