Child executioner in ISIS video 'recognized by classmates' in France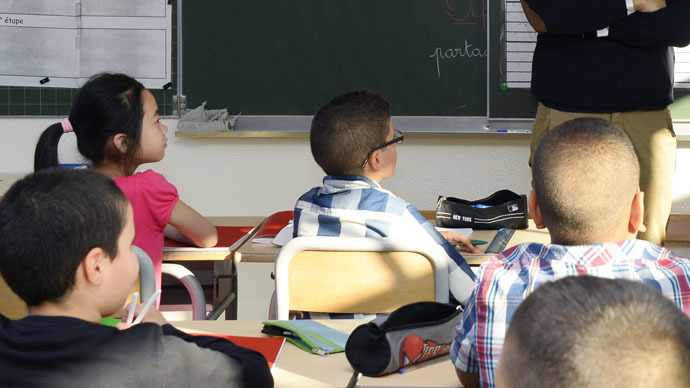 A child seen executing an Arab Israeli in one of ISIS's recent videos has reportedly been recognized by his classmates from a school he attended in Toulouse, France. The boy could be as young as 12 years old.
The local schools inspector has cautioned against jumping to conclusions yet, however.
"Concerning the formal identification of this person, I cannot tell you anything. Children from the Vauquelin College have recognized one of their classmates, but we must remain cautious," Jacques Caillaut told journalists.
Students allegedly saw the footage on Wednesday and were shocked, with some of them in tears. Counseling for them has been put in place at school, AFP reported.
The kids would have known the boy executioner when he was in primary school, but he supposedly "hasn't been enrolled at the Vergers [primary] school since last March," school inspector also said.
READ MORE: Danish teen taken from father over ISIS-joining fears
Posted on March 10, the video shows a 19-year-old young man, who introduced himself as Mohammed Said Ismail Musallam kneeling in front of a boy. Wearing an orange jumpsuit, typically used by IS jihadists for executions, Musallam tells how he had been recruited by Israeli intelligence.
Next to the boy there is also a man, heard threatening Jews in France. According to French media outlet La Depeche, the man was speaking French with a Toulouse accent.
Then, the boy shoots the prisoner in the forehead using a pistol, shouts "Allahu Akbar" and fires four more times at the man who lies on the ground.
READ MORE: ISIS releases video of child executing 'Israeli spy'
The man next to the boy has been unofficially recognized as Sabri Essid – a close connection to French jihadist gunman Mohamed Merah, who assassinated seven people, including three school children, in southern France in 2012.
READ MORE: Jewish school shooting: 3 children among killed in France
The boy is believed to be Essid's stepson who stands next to him: Essid is known to have traveled to Syria last year with the family, including his wife and her 12-year-old son from a previous marriage.
French authorities have launched a formal investigation into the video.
It's not the first time that news of child IS fighters has appeared. Earlier this year, IS published a video that showed a young boy shooting in the back of the head two men reportedly accused of being Russian spies.
You can share this story on social media: