Pakistan successfully tests first combat drone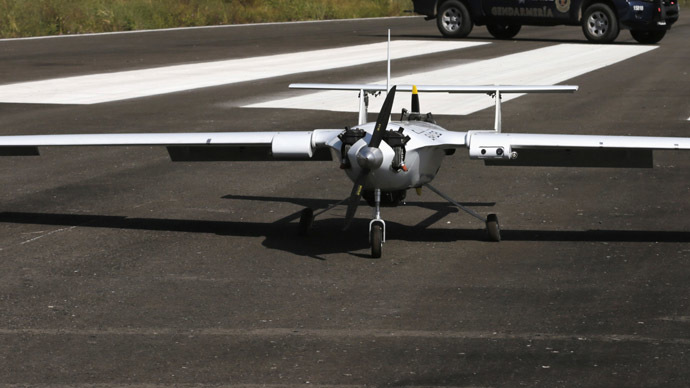 Pakistan has test-fired its first domestic combat drone with "impressive pinpoint accuracy." Hailed by the country's army chief as a "great national achievement," the new arsenal is aimed at boosting Pakistan's ability to fight terrorism.
The drone, dubbed 'Burraq' in honor of the flying horse described in Islamic screeds, is capable of flying in all-weather conditions. Equipped with a Barq laser-guided missile, the drone showed "impressive pinpoint accuracy," said Pakistan's chief of army staff, General Raheel Sharif.
Sharif attended Friday's ceremony and witnessed the drone successfully hitting both static and moving targets.
#COAS congrats nation,scientist,tech,involved in dev own drone.Lets join hands to take Pak frwd in respective field-5 pic.twitter.com/xWH7nUNdiz

— AsimBajwaISPR (@AsimBajwaISPR) March 13, 2015
#COAS terms it great national achievement,momentous occasion. Force multiplier in our anti terror campaign/ops-4/5 pic.twitter.com/qCLCJiZYeS

— AsimBajwaISPR (@AsimBajwaISPR) March 13, 2015
Speaking at the event, General Sharif said the newly developed weapon will increase the military's capacity to effectively combat terrorism. He also commended the scientists and engineers who worked on the project.
"Let's join hands to take Pakistan forward in respective fields," Sharif said in his address.
Islamabad has in the past complained about US drone strikes targeting Al-Qaeda and Taliban insurgents near the country's northwestern border with Afghanistan, saying that such military activity violates Pakistan's territorial integrity. The CIA has carried out more than 400 strikes in Pakistan since 2004, according to the independent Bureau of Investigative Journalism.
Pakistan's military developed surveillance-capable drones back in November 2013, but arming them required overcoming significant technical hurdles.
Proud moment in Pak history. Pakistan successfully tested it's first Drone #Burraq armed with laser guided missile pic.twitter.com/dhU3cqKdta

— آل راؤنڈر (@AlIrounder) March 13, 2015